Maryland History
Explore our many resources to uncover the diverse history of Maryland using the rich primary sources of the State Archives.
History Resources
Annapolis & the War of 1812
Brookeville 1814
Documents for Classroom
Maryland 400
Exhibits

Maryland in Brief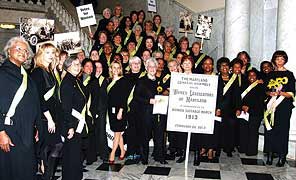 Other Resources
Archives of Maryland Online
Maryland Manual Online
MD Historical Magazine
State Art Collection
Special Collections
Publications
This web site is presented for reference purposes under the doctrine of fair use. When this material is used, in whole or in part, proper citation and credit must be attributed to the Maryland State Archives. PLEASE NOTE: The site may contain material from other sources which may be under copyright. Rights assessment, and full originating source citation, is the responsibility of the user.
---
© Copyright October 15, 2020 Maryland State Archives