Mary Carter Smith
1919-2007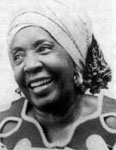 Mary Carter Smith was born in Birmingham, Alabama on February 10, 1919 and has resided in Maryland for 60 years. Smith is known nationwide for reviving and promoting storytelling as an art, as a teaching method, and as a form of communication.
As a teacher in the Baltimore City Public Schools for 30 years, Smith began her career in 1943 by telling and reading stories, singing songs, and writing and reciting poetry from the African heritage. In the early 1970's she decided to devote her full time to telling stories.
Inspired by the emergence of Black cultural expression of the 1960's and by her concern over misunderstandings among groups, Smith has dedicated her life to peace and humanity. As she explains in her statement of purpose:
"Misunderstanding abounds, It has no special resting place. Rich and poor, majority and minority, young and old, Black and White – all feel the sting of being misunderstood. And there are many people, using many ways, trying to lead us to a better understanding of each other. I am among those who fight misunderstanding. The weapons I use are stories, drama, songs, poetry, and laughter. I bring entertainment with a purpose."
Smith's extensive repertoire of stories poems and dramatic sketches has been developed through a recollection of experiences drawn from her native Birmingham, Alabama, from towns in Kentucky, West Virginia, Ohio, and from Baltimore Maryland. Her experiences as a teacher, librarian and activist as well as her extensive travelling experiences have also enriched her repertoire of stories.
Smith has served as hostess of Black Is, a Maryland Public Television Program, in 1973. She is the producer and presenter of a Saturday morning show Griot For The Young and The Young at Heart on WEAA-FM, Morgan State University, which is now in its twentieth year. She is a founding member of Big Sisters International, cofounder of the National Association of Black Storytellers, and a founding member of the Arena Players.
As a writer, she is included in the 1970 edition of Poetry of the Negro, in an early book of poetry Opinionated, and in the book Vibes. Other works include Town Child, Heart to Heart, an autobiographical book of poetry and prose, and she co-authored The Griot's Cookbook. She has produced several audiocassettes and two videocassettes, Tell Me A Story and Cindy Ellie.
Smith has been the recipient of numerous awards and honors including: the installation of her likeness in the Great Blacks In Wax Museum in Baltimore, Maryland, a proclamation from the National Association of Black Storytellers designating her Mother Griot (African folklorist), and a Lifetime Achievement Award from the National Storytelling Association (N.S.A.).
Mary Carter Smith's continued dedication to creating awareness, cultivating understanding, and promoting humanity, through her storytelling, has benefited children and adults alike in the State of Maryland, the United States and the world.
---