Elaine Ryan Hedges
1927-1997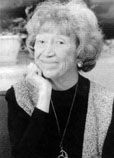 Dr. Elaine Ryan Hedges, an innovative scholar, a superior teacher, and an exemplary administrator, was born in Yonkers, New York on August 17, 1927. She lived in Baltimore, Maryland from the late 1960's until her death in 1997. This extraordinary educator was at the forefront when the field of Women's Studies was created in the 1970's, and was crucial to its development and continued growth, as founding member and advisor to the National Women's Studies Association. Nationally and internationally recognized as a scholar of the first rank, Dr. Hedges has made a significant and lasting contribution to the people of the State of Maryland, and particularly to the women of Maryland.
For many years, Dr. Hedges served as writer, critic, and editor for The Feminist Press, which honored her in 1988 with The Feminist Press Award for Contributions to Women's Culture. She was also one of eight major editors for the current edition of Heath Anthology of American Literature, a publication which virtually redefined the canon of American literature toward the inclusiveness of women writers and writers of all races. Noted for her scholarship on American women's quilts, Dr. Hedges was sought as a speaker and consultant by historical societies, museums, and quilting groups. Her critical efforts in forming the Modern Language Association's Committee on the Status of Women, during the 1970's, continue to reap untold benefits for women educators and students.
In the early 1970's Dr. Hedges founded the Women's Studies Program of Towson University, esteemed as one of the oldest and best in the nation, contributing greatly to the expansion of diversity and inclusiveness in higher education in the State. By the time of her retirement, Towson's interdisciplinary program in Women's Studies had grown to include 40 faculty members, 50 courses, and reached an average of 2,000 students a year. In addition to her exceptional efforts in developing and perfecting Towson's Women's Studies Program, Dr. Hedges was one of two organizers to make Towson University's curriculum more gender-inclusive. As co-director of a three year grant, from the U.S. Department of Education's Fund for Improvement of Postsecondary Education (FIPSE), Dr. Hedges helped 75 Towson faculty members in 13 disciplines transform their courses to more adequately incorporate the growing body of knowledge on women. As an extension of that work she and co-director, Professor Sara Coulter of Towson University, headed a similar "mainstreaming" project for five community colleges within the state of Maryland.
At the time of her death, Dr. Hedges had been working on publishing materials for the National Center for Curriculum Transformation Resources on Women, which she and Dr. Coulter recently established on the Towson University campus with funds from a Ford Foundation grant. The National Center's purpose is to serve as a clearinghouse for the dissemination of ideas and materials developed in these and other mainstreaming projects throughout the nation and the world.
Elaine Hedges' lifework has made women more visible in our culture and society. Achieving preeminent status as a leader and ground breaker in the fields of women's studies and American literature, Dr. Hedges' work has led to tremendous educational advances in the State, to the present and future benefit of Maryland women and women throughout the world.
---