Reports
---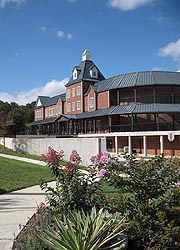 CITY COUNCIL
Elected by Voters to 2-year terms (Nov.):
Kate Stewart, Mayor (2-year term)
Peter Kovar, Ward 1
Timothy Male, Ward 2
Rizwan (Rizzy) Qureshi, Ward 3
Terry J. Seamens, Ward 4
Jarrett K. Smith, Ward 5
Frederick Schultz, Ward 6
Terms expire 2017.

Takoma Park Community Center - Sam Abbott Citizens' Center, 7500 Maple Ave., Takoma Park, Maryland, 2010. Photo courtesy of City of Takoma Park.

---
Meetings: Wednesdays, 7:30 p.m.

Takoma Park Community Center - Sam Abbott Citizens' Center, 7500 Maple Ave., Takoma Park, MD 20912
(301) 891-7100; fax: (301) 270-8794
web: https://takomaparkmd.gov/
---
---
---
© Copyright April 10, 2017 Maryland State Archives