GOVERNOR'S COUNCIL ON THE CHESAPEAKE BAY
Chair: Ben H. Grumbles, Secretary of the Environment
---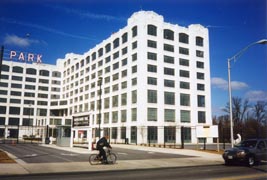 Ex officio: Joseph Bartenfelder, Secretary of Agriculture; Mark J. Belton, Secretary of Natural Resources; Robert S. McCord, Acting Secretary of Planning; Donald F. Boesch, Ph.D., designee of Chancellor, University System of Maryland; Craig Beyrouty, Ph.D., Dean, College of Agriculture & Natural Resources, University of Maryland, College Park.

Montgomery Park Business Center, 1800 Washington Blvd., Baltimore, Maryland, February 2004. Photo by Diane F. Evartt.

---
Other Executive Branch representatives: R. Michael Gill, Secretary of Commerce; Ellington Churchill, Jr., Secretary of General Services; Kenneth C. Holt, Secretary of Housing & Community Development; Pete K. Rahn, Secretary of Transportation; Karen B. Salmon, Ph.D., State Superintendent of Schools.

Staff: D. Lee Currey

c/o Water & Science Administration, Department of the Environment
Montgomery Park Business Center, 1800 Washington Blvd., Baltimore, MD 21230
(410) 537-3572; fax: (410) 537-3998
e-mail: lee.currey@maryland.gov

The Governor's Council on the Chesapeake Bay was initiated by the Governor in January 1985 (Executive Order 01.01.1985.02). The Council advises the Governor on management of the Bay and surrounding areas. Known as the Governor's Chesapeake Bay Cabinet, the Council also promotes interagency coordination and integration of Bay-related programs.

Formerly at the Chesapeake and Coastal Service of the Department of Natural Resources, the Council moved to its present site at the Department of the Environment in 2015.
---
© Copyright September 25, 2017 Maryland State Archives