---
LENGTH & BREADTH (in miles)
Longest east-west: 198.6 miles-Fairfax Stone to Delaware Line.

Longest north-south: 125.5 miles-Pennsylvania line to Virginia line at Smith Point on south shore mouth of Potomac River.

Shortest north-south: 1.9 miles-Pennsylvania line to south bank of Potomac River near Hancock.

Farthest points: northwest corner to southeast corner at Atlantic Ocean, 254.7 miles.

Eastern Box Turtle (Terrapene c. carolina), Glen Burnie, Maryland, June 2015. Photo by Diane F. Evartt.

---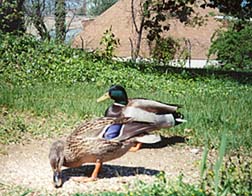 AREA

Land
9,843.62 sq. miles
Inland Water
623.35 sq. miles
Chesapeake Bay
1,726.0 sq. miles
Total
12,192.97 sq. miles
Mallards, Annapolis, Maryland, May 2000. Photo by Diane F. Evartt.

---
AREA (by county)
---
AREA BY COUNTY
(in square miles)

Land Area
Water Area
Total Area
Allegany
427.62
0.38
428.00
Anne Arundel
418.37
35.24
453.61
Baltimore City
80.34
11.67
92.01
Baltimore
597.60
34.99
632.59
Calvert
213.23
27.09
240.32
Caroline
320.79
3.60
324.39
Carroll
451.98
0.47
452.45
Cecil
359.55
21.20
380.75
Charles
451.58
35.20
486.78
Dorchester
593.22
67.75
660.97
Frederick
662.72
4.60
667.32
Garrett
656.83
7.58
664.41
Harford
447.64
16.50
464.14
Howard
251.00
2.51
253.51
Kent
278.34
25.30
303.64
Montgomery
495.44
10.14
505.58
Prince George's
487.01
12.20
499.21
Queen Anne's
371.86
29.20
401.06
St. Mary's
372.54
37.68
410.22
Somerset
338.41
35.85
374.26
Talbot
258.62
67.70
326.32
Washington
454.97
12.10
467.07
Wicomico
379.10
14.40
393.50
Worcester
474.86
110.00
584.86
---
© Copyright June 21, 2017 Maryland State Archives