Main
Introduction
The Translantic Trade
Bookbinding in The Colonies
Credits

Special Collections
Guide to Government Records
Museum Online
Watermarks: Bringing to Light Hidden Information
The majority of fine paper used in the colonies until the 1770s was imported from England, France, Holland, Italy, and sometimes Spain. Most quality paper made prior to 1820 was made with a watermark, a detail that can sometimes identify the origins of a piece of paper.
Watermarks are created by weaving wire in the screen of the mould used to create handmade paper. The pattern left by the wire can be seen when the paper is held to light. Unfortunately, the origin of a watermark can rarely be traced definitively, since the moulds changed hands and were used for many years. Further complicating things, watermarks of quality were often copied illegally.
Most of the bound volumes in the Spawn Collection contain common watermarks like the fleur de lis, a heraldric shield, or the letters LVG. These were widespread generic symbols often associated with high-quality Dutch and French paper from the eighteenth century.


Watermark: Fleur de lis on top of a shield with a bend sinister and the letters LVG below
Watermark: Willman Spawn Collection, MSA SC 5797-2-11-0001
Binding: Willman Spawn Collection, MSA SC 5797-1-3
Original contents: Talbot County Register of Wills (Inventories), 1777-1786, Liber IB A, page 180, MSA C 1872-8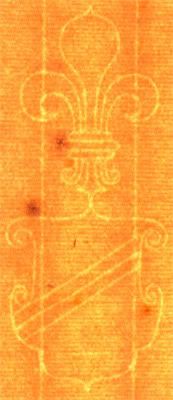 Watermark: Fleur de lis on top of a shield with a bar sinister
Watermark: Willman Spawn Collection, MSA SC 5797-2-13-0001
Binding: Willman Spawn Collection, MSA SC 5797-1-4
Original contents: Dorchester County Court (Land Records), 1740-1745, Liber FT, page 532, MSA C 710-14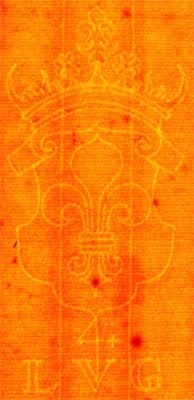 Watermark: Fleur de lis in a shield topped by a crown with the letters LVG below
Watermark: Willman Spawn Collection, MSA SC 5797-2-15-0001
Binding: Willman Spawn Collection, MSA SC 5797-1-5
Original contents: General Assembly (Law Record) 1731-1744, Liber BLC 1, page 616, MSA S 973-10

Using Watermarks as a Tool

In 2007, the Maryland State Archives acquired George Washington's personal copy of the speech he gave to Congress in the Maryland State House on December 23, 1783 when he resigned his commission of commander-in-chief to return home to Mt. Vernon. The "Britannia" watermark present in the paper helped to verify the authenticity of this historic document, since other surviving examples of personal stationary Washington used during the American Revolution carry the same watermark. Research conducted by State Archivist Dr. Edward C. Papenfuse has traced this watermark to a possible mill of origin in Kent County, England.

(George Washington's Resignation Speech, MSA SC 5664-1)