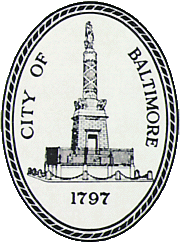 Archives of Maryland
Historical List
Baltimore City Court of Common Pleas Clerks, 1851-1982
---

The Baltimore City Court of Common Pleas was created in 1851. Initially, it was responsible for hearing civil cases in which less than $500 was claimed ($1,000 after 1864); cases involving more money were heard by the Superior Court [Constitution of 1851, Article IV, Section 11].

In 1867, Baltimore's courts were were reorganized as the Supreme Bench of Baltimore City. The Superior Court, City Court, and Court of Common Pleas all became civil courts with identical jurisdiction [Constitution of 1867, Part IV]. The Court of Common Pleas also issued all licenses in the city, including marriage, business and liquor licenses.

A constitutional amendment passed in 1980 consolidated the Baltimore Courts. It took effect in on January 1, 1983, and the Court of Common Pleas was absorbed into the Baltimore City Circuit Court, functioning as any other county circuit court, with one court clerk.

1851-1855 Lambert S. Norwood
1855-1861 William J. Hamill
1861-1867 James D. Lowry
1867-1885 Isaac Freeman Rasin
1885-1896 John T. Gray
1896-1897 James M. Vansant
1897-1903 James H. Livingston
1903-1921 Adam Deupert
1921-1934 James Y. Claypoole
1934-1970 Frank C. Robey
1970 Joseph C. Dersch
1970-1975 Paul L. Chester
1975-1978 J. Randall Carroll
1978-1982 Saundra E. Banks

Sources:
Maryland Manual
BALTIMORE CITY COURT OF COMMON PLEAS (Minutes) 1950-1971 [MSA T1433]
SECRETARY OF STATE (Commission Record) 1851-1967 [MSA S1081]
Byrnes, John Carroll. "Evolution of the Circuit Court of Baltimore City, 1632-1997." In Histories of the Bench & Bar of Baltimore City. Baltimore: Baltimore Courthouse and Law Museum Foundation, 1997, 1-62.
"The Court of Common Pleas." The Barrister, 1982.

Return to Maryland Government, Historical List

This web site is presented for reference purposes under the doctrine of fair use. When this material is used, in whole or in part, proper citation and credit must be attributed to the Maryland State Archives. PLEASE NOTE: The site may contain material from other sources which may be under copyright. Rights assessment, and full originating source citation, is the responsibility of the user.
---
Tell Us What You Think About the Maryland State Archives Website!
---