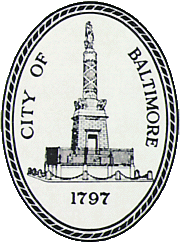 Archives of Maryland
Historical List
Baltimore City Circuit Court Clerks, 1853-present
---

The Baltimore City Circuit Court was created in 1853. Along with the Baltimore City Superior Court, it heard equity and habeas corpus cases [Laws of 1853, Chapter 122]. In 1867, Baltimore's courts were were reorganized as the Supreme Bench of Baltimore City. The Circuit Court became the court that heard all equity cases [Constitution of 1867, Part IV]. It later shared these duties with the Circuit Court No. 2 beginning in 1888.

A constitutional amendment passed in 1980 consolidated the Baltimore Courts. It took effect in on January 1, 1983, and Baltimore's six courts became the Baltimore City Circuit Court, functioning as any other county circuit court, with one court clerk.

1853-1859 William H.H. Turner
1859-1860 Thomas B. Gaither
1860 Robert J. Kerr
1860-1861 J. Thomas Adams
1865-1867 Samuel M. Evans
1867-1885 James R. Brewer
1885-1897 Alvin Robertson
1897-1903 Barreda Turner
1903-1909 Max Ways
1909-1915 William M. Carson
1915-1942 Charles R. Whiteford
1942-1972 Henry J. Ripperger
1972-1978 Louis Cohen
1978-1982 Ronald J. Wiley
1983-1998 Saundra E. Banks
1998-2015 Frank M. Conaway, Sr.1
2015-2016 Lavinia G. Alexander2
2016-present Marilyn F. Bentley3

Notes:
1. Frank M. Conaway, Sr. died in office on February 15, 2015.
2. Appointed March 12, 2015, to replace Frank M. Conaway, Sr. Died November 8, 2016.
3. Appointed December 8, 2016, to replace Lavinia G. Alexander.

Sources:
Maryland Manual
SECRETARY OF STATE (Commission Record) 1851-1967 [MSA S1081]
Byrnes, John Carroll. "Evolution of the Circuit Court of Baltimore City, 1632-1997." In Histories of the Bench & Bar of Baltimore City. Baltimore: Baltimore Courthouse and Law Museum Foundation, 1997, 1-62.

Return to Maryland Government, Historical List

This web site is presented for reference purposes under the doctrine of fair use. When this material is used, in whole or in part, proper citation and credit must be attributed to the Maryland State Archives. PLEASE NOTE: The site may contain material from other sources which may be under copyright. Rights assessment, and full originating source citation, is the responsibility of the user.
---
Tell Us What You Think About the Maryland State Archives Website!
---