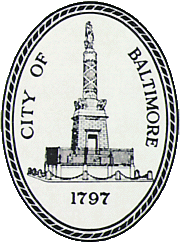 Archives of Maryland
Historical List
Baltimore City Circuit Court No. 2 Clerks, 1888-1982
---

The Baltimore City Circuit Court No. 2, a part of the Supreme Bench of Baltimore City, was created in 1888 [Laws of 1888, Chapter 194]. It was created to relieve the burden on the Circuit Court, and the two courts had identical jurisdictions over equity cases; Circuit Court No. 2 had exclusive jurisdiction over paternity cases. This was the only time that an additional court was created to reduce the workload on a court; subsequently, judges were assigned to the courts instead.

A constitutional amendment passed in 1980 consolidated the Baltimore Courts. It took effect in on January 1, 1983, and Baltimore's six courts became the Baltimore City Circuit Court, functioning as any other county circuit court, with one court clerk.

1888-1895 John H. Suter
1895-1901 Alfred J. Shultz
1901 William R. Brewer
1901-1907 Thomas A. Robinson
1907-1939 John Pleasants
1939-1942 Charles A. McNabb
1942-1956 John S. Clarke
1956-1970 G. Gordon Kirby
1970 Raleigh E. Stokes
1970-1976 John D. Hubble
1976-1977 Elliott R. Morrison
1976-1982 John F. Kelly

Sources:
Maryland Manual
BALTIMORE CITY CIRCUIT COURT NO. 2 (Minutes) 1948-1977 [MSA T1691]
SECRETARY OF STATE (Commission Record) 1851-1967 [MSA S1081]
Byrnes, John Carroll. "Evolution of the Circuit Court of Baltimore City, 1632-1997." In Histories of the Bench & Bar of Baltimore City. Baltimore: Baltimore Courthouse and Law Museum Foundation, 1997, 1-62.

Return to Maryland Government, Historical List

This web site is presented for reference purposes under the doctrine of fair use. When this material is used, in whole or in part, proper citation and credit must be attributed to the Maryland State Archives. PLEASE NOTE: The site may contain material from other sources which may be under copyright. Rights assessment, and full originating source citation, is the responsibility of the user.
---
Tell Us What You Think About the Maryland State Archives Website!
---