The Baltimore Railroad Strike
& Riot of 1877
Archives of Maryland series: Documents for the Classroom
Maryland State Archives
350 Rowe Boulevard
Annapolis, MD 21401
---
Suggested Reading & Viewing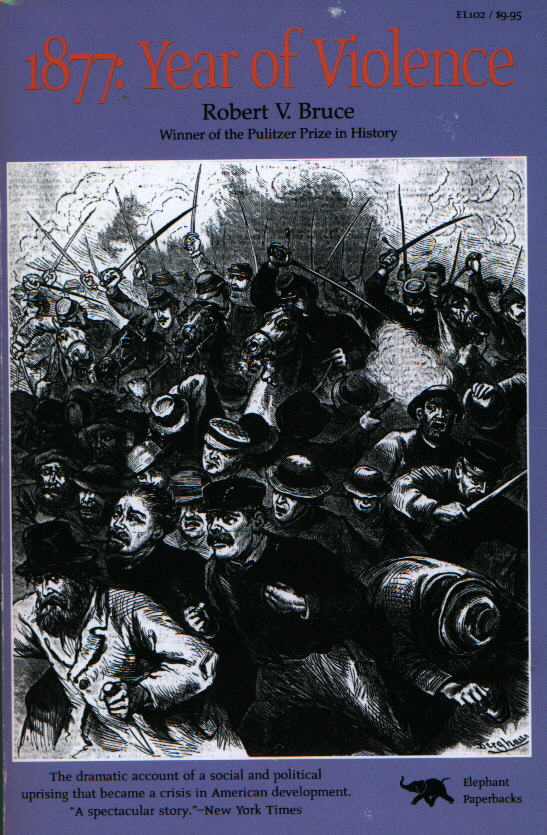 Books, Articles, and Videos:
Brier, Stephen, producer & director. 1877, The Grand Army of Starvation. American Social History Productions, inc., 1984. 30 minute video. MSA SC 2221-09-02
Bruce, Robert V. 1877: Year of Violence. Chicago: Elephant Paperbacks, 1989 [1957].
Gillett, Sylvia. "Camden Yards and the Strike of 1877," in The Baltimore Book New Views of Local History, edited by Elizabeth Fee, Linda Shopes, & Linda Zeidman. Philadelphia: Temple University Press, 1991, pp. 1-16. MSA SC 2221-09-11
Jones, Carlton."Tragedy in July: The Rail Strike-Riot of 1877" Sun, Magazine Section, July 17, 1977, courtesy Enoch Pratt Free Library, Vertical File. MSA SC 2221-09-07
Levine, Bruce, et al. Who built America?: Working People and the Nation's Economy, Politics, Culture, and Society Vol. I. New York: Pantheon Books, c. 1989 - c. 1992. [LC Call No.: HD8066.W47 1989] MSA SC 2221-09-13
Stowell, David Omar. The Struggle of City Streets: People, Railroads, and the Great Strikes of 1877. Ann Arbor, MI:UMI Dissertation Services, 1994 [1992].
Yearley, Clifton K., Jr. "The Baltimore and Ohio Railroad Strike of 1877." Maryland Historical Magazine, vol 51., no. 3, September 1956, pp. 118-211. MSA SC 2221-09-08
Contemporary Accounts:
Return to Strike & Riot homepage
---
The Archives of Maryland Documents for the Classroom series of the Maryland State Archives was designed and developed by Dr. Edward C. Papenfuse and Dr. M. Mercer Neale. This packet was prepared and introduced by Dr. Papenfuse with production assistance from R. J. Rockefeller, Lynne MacAdam, Paula Brown, Chris Haley, and other members of the Archives staff. MSA SC 2221-09. Publication no. 1797.
© 1997-1999 Maryland State Archives; rev. February 1999.
For further inquiries, please contact Dr. Papenfuse at:
E-mail: edp@mdarchives.state.md.us
Phone: MD toll free 800-235-4045 or (410) 260-6401
© Copyright October 19, 2004 Maryland State Archives