---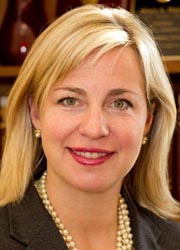 STACY A. MAYER, Associate Judge, Baltimore County Circuit Court, 3rd Judicial Circuit, since February 1, 2021.

Associate Judge, District Court of Maryland, District 8, Baltimore County, August 5, 2013 to February 1, 2021. Chair, Legislative Committee, 2020- (member, 2015-; vice-chair, 2017-20), Judicial Council. Member, Commissioner Education Subcommittee, 2016-21 and Mentor Subcommittee, 2017-, of Education Committee, Judicial Council. Member, Special Committee on Judicial Compensation, 2018, 2021, Judicial Council.

Member, COVID-19 Access to Justice Task Force, 2020-21.



---
Chief Legislative Officer, Office of Governor, November 2, 2012 to July 12, 2013 (Deputy Legislative Officer, Dec. 2008 to Nov. 1, 2012).

Assistant State's Attorney, Baltimore County, 1996-99. Assistant State's Attorney, Howard County, 1999-2008.

Born in Silver Spring, Maryland, September 8, 1972. Attended McDonogh School, Owings Mills, Maryland; University of Richmond, B.A. (English & French), 1994; University of Maryland School of Law, J.D., with honors, 1997 (order of the coif, national law school honorary society; maryland law review; corpus juris secundum award for contracts & civil procedure). Summer associate, Smith, Somerville & Case, LLC, 1995. Law clerk, Spahn, Harvis, Greenberg & Broida, 1996. Admitted to Maryland Bar, 1997. Member, Maryland State Bar Association, 2011- (criminal law & practice section; state & local government section; bench-bar committee section council, 2015-); Howard County Bar Association, 1999-2009; Baltimore County Bar Association, 2010- (bench-bar committee, 2015-). Pro bono attorney, House of Ruth, 2012-13.
---
Search the Manual
e-mail: mdmanual@maryland.gov

This web site is presented for reference purposes under the doctrine of fair use. When this material is used, in whole or in part, proper citation and credit must be attributed to the Maryland State Archives. PLEASE NOTE: The site may contain material from other sources which may be under copyright. Rights assessment, and full originating source citation, is the responsibility of the user.
---
Tell Us What You Think About the Maryland State Archives Website!
---
© Copyright March 14, 2022 Maryland State Archives