DEPARTMENT OF PUBLIC SAFETY & CORRECTIONAL SERVICES
---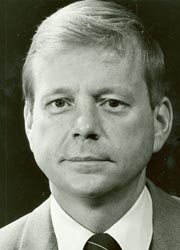 FRANK A. HALL
Secretary of Public Safety & Correctional Services, 1983-86

Member, Governor's Executive Council, 1983-86. Member, Maryland Criminal Justice Coordinating Council, 1983-86; Criminal Justice Information Advisory Board, 1983-86; Emergency Management Advisory Council, 1983-86; Maryland Highway Safety Coordinating Committee, 1983-86; Sundry Claims Board, 1983-86; Interdepartmental Committee for Telecommunications Master Planning, 1983-86; Task Force on Violence and Extremism, 1983-86.

---
Administrative assistant to Commissioner, 1967-68, Personnel Director, 1968-70, Area Administrator, 1970-73, and Director of Program Services, 1973, North Carolina Department of Correction.

Commissioner, Massachusetts Department of Correction, 1973-1979.

Director, New York State Division of Youth, 1979-1983.

Director of Corrections, Santa Clara County, California, 1987-1992.

Director, Oregon Department of Corrections, 1992-95.

Commissioner of Corrections, Philadelphia, Pennsylvania, 1995-96.

Born in Washington, DC, March 20, 1940. Served in U.S. Army, 1960-1962 (paratrooper). University of North Carolina, B.A., 1966; Maxwell School of Public Affairs, Syracuse University, M.P.A. (public administration), 1967. Director of Marketing, Public Safety, Viisage Technology, Inc., Boston, 1997. Managing Director, The Eagle Group, Boston. Member, American Correctional Association (board of governors; delegate assembly; national correctional policy advisory committee); American Probation and Parole Association; National Association of Administrators of Juvenile Correctional Agencies; Maryland Corrections, Parole, and Probation Assocation; Northeast Association of Correctional Administrators. Board of Directors, Strategies for Youth. Married; four children.
---
Search the Manual
e-mail: mdmanual@maryland.gov

This web site is presented for reference purposes under the doctrine of fair use. When this material is used, in whole or in part, proper citation and credit must be attributed to the Maryland State Archives. PLEASE NOTE: The site may contain material from other sources which may be under copyright. Rights assessment, and full originating source citation, is the responsibility of the user.
---
Tell Us What You Think About the Maryland State Archives Website!
---
© Copyright March 14, 2022 Maryland State Archives