DEPARTMENT OF EMPLOYMENT & TRAINING
---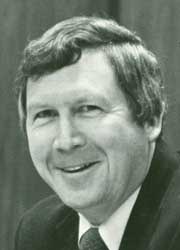 BRENT M. JOHNSON
Secretary of Employment & Training, 1983-86


Secretary of Employment and Training, 1983 to 1986. Resigned 1986. Member, Governor's Executive Council, 1983-86; Governor's Task Force on Correctional Rehabilitation, 1983; Balance of State Private Industry Council, 1983-86; Governor's Productivity Planning Committee, 1984-85. Chair, Task Force to Develop a Watermen's Compensation Program, 1984.

---
Assistant Executive Director, State Board for Community Colleges, 1970-76. Executive Director, State Board for Community Colleges, 1977-83. Member, Segmental Advisory Committee to State Board for Higher Education, 1977-83 (past chair); Educational Coordinating Council for Correctional Institutions, 1979-83; Desegregation Task Force of State Board of Higher Education, 1980; State Use Industries Advisory Committee, 1981-83. Member, Advisory Council to the Board of Public Works on Higher Education Facilities Acts, 1981-83, 1991.

Member, Governor's Employment and Training Council, 1986-87; State Advisory Council for Handicapped Individuals, 1986-87; Governor's Commission on Migratory and Seasonal Farm Labor, 1986-87; Interdepartmental Advisory Committee for Minority Affairs, 1986-87.

Literacy coordinator and caseworker, Department of Social Services, Anne Arundel County, 1991 to August 2002. Resigned August 2002.

Born in Rochester, New Hampshire, January 27, 1941. University of Southern Maine, B.A.; Catholic University of America, M.A., 1970, Ph.D. (education administration), 1972. Served in U.S. Air Force, 1963-68 (captain). Associate director of athletics, Federal City College, Washington, DC, 1968-70. Author, Community Services: Continuing Education for Citizens in Maryland's Community Colleges (1972); Financial Aid Programs, Operations, Resources, Needs and Projections in Maryland Community Colleges (1972). Adjunct faculty, Catholic University of America.
---
Search the Manual
e-mail: mdmanual@maryland.gov

This web site is presented for reference purposes under the doctrine of fair use. When this material is used, in whole or in part, proper citation and credit must be attributed to the Maryland State Archives. PLEASE NOTE: The site may contain material from other sources which may be under copyright. Rights assessment, and full originating source citation, is the responsibility of the user.
---
Tell Us What You Think About the Maryland State Archives Website!
---
© Copyright March 14, 2022 Maryland State Archives