---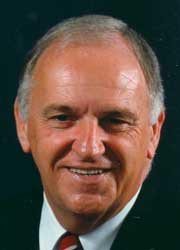 WILLIAM A. FOGLE JR. (1935-2014)
Secretary of Licensing & Regulation, 1987-95

Secretary of Licensing and Regulation, 1987 to February 1995. Member, Governor's Executive Council, 1987-95. Member, Governor's Blue Ribbon Task Force on Self-Insurance, 1987-88; Asbestos Oversight Committee, 1987-95; Interdepartmental Advisory Committee for Minority Affairs, 1987-95; Governor's Construction Industry Employers' Advisory Council, 1988-95; Maryland State Employees Risk Management Advisory Council, 1989-95; Advisory Council on Landlord-Tenant Affairs, 1990-95; Advisory Committee on Manufacturing, 1992-95; Governor's Task Force to Study Gambling, 1993-94.

---
Supervisor of Management and Budget, Baltimore City, 1966-81. Executive Assistant to Baltimore City Mayor, 1981-86. In that capacity, managed Baltimore City Central Garage; Hanover Bridge Marina; Meter Reading and Water Billing System; Mayor's Criminal Justice Program; Mayor's Sister Cities Program. Former member, Community College Advisory Board; Advisory Committee, Blind Industries and Services of Maryland.

Born in Connellsville, Pennsylvania, July 16, 1935. Resident of Dundalk since 1939. Attended Dundalk High School, Baltimore, Maryland. Served in U.S. Army, 1954-56 (cryptographer). University of Baltimore, B.S. (industrial management), 1961. Program for Senior Executives in State and Local Government, John F. Kennedy School of Government, Harvard University, 1993. Former corporate industrial engineer, Peat, Marwick, Mitchell & Co.; Pennsylvania Railroad; Chesapeake & Ohio Railroad; Baltimore & Ohio Railroad. President, BCI Contractors, Inc., a construction company, 1996 (assistant vice president of marketing & sales, 1995-96). Vice-Chair, Board of Directors, AmericasBank Corporation, and Americasbank, 1996- (capital committee, 1998). Licensed realtor, Century 21 Country Home, 1997-. Vice President, York County Property Management Company, a real estate construction, management and development company, York County, Pennsylvania, 1997-99. Member, Maryland Children's Aid and Family Services; Supervisory Committee, Municipal Employees Credit Union. Board of Directors, Babe Ruth Museum. Entertainment chair, Baltimore City Fair. Past President, Maryland Public Finance Officers; Managerial and Professional Society of Baltimore; Old Dundalk Improvement Association; Kiwanis Club of Dundalk. Member, Boumi Temple; Chamber of Commerce; Masons. Created Heritage Fair Association, 1976. President, Maryland Government Finance Officers Association, 1978-79. Lecturer, The Johns Hopkins University; Morgan State University; Essex and Dundalk Community Colleges. Recipient, U.S. Presidential Citation of Appreciation for Community Service; Mayor's Citation for Community Service Award, Baltimore City; Baltimore County Citation for Community Service; Chamber of Commerce Citizen of the Year Award. Divorced; two sons, two grandchildren. Died in Glen Rock, Pennsylvania, September 17, 2014.
---
Search the Manual
e-mail: mdmanual@maryland.gov

This web site is presented for reference purposes under the doctrine of fair use. When this material is used, in whole or in part, proper citation and credit must be attributed to the Maryland State Archives. PLEASE NOTE: The site may contain material from other sources which may be under copyright. Rights assessment, and full originating source citation, is the responsibility of the user.
---
Tell Us What You Think About the Maryland State Archives Website!
---
© Copyright March 14, 2022 Maryland State Archives