---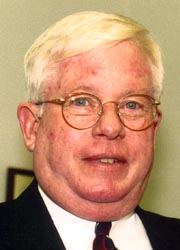 KENNETH H. MASTERS (1943-2012)
Chief Legislative Officer, Office of Governor, 2003-07

Chief Legislative Officer, Office of Governor, 2003 to January 17, 2007.

Member of House of Delegates (Democrat), January 10, 1979 to January 11, 1995, representing District 12 (1982-95) and 13 (1979-82) (Baltimore County). Member, Judiciary Committee, 1979-95 (vice-chair, 1987-91); Legislative Policy Committee, 1991-95 (management subcommittee). House Chair, Joint Committee on Administrative, Executive and Legislative Review, 1991-93. Majority Leader, 1993-95.

Member, Governor's Task Force on State Suppport for Volunteer Fire, Rescue and Ambulance Companies, 1983-85; Vietnam Veterans Memorial Commission, 1984-89; Commission to Revise the Administrative Procedure Act, 1992; Article 27 Revision Committee, 1992-2008. Member, Governor-elect's Transition Team, 2002-03.

---
Born in Washington, DC, August 16, 1943. Raised at Scientists Cliff, Calvert County. Attended Charlotte Hall School; Towson State College, B.A., 1965. Served in U.S. Army 1966-69 (platoon leader, Vietnam, 1968-69; Combat Infantryman's Badge, Aircraft Crewman's Badge, Vietnam Service Ribbon, Air Medal, Bronze Star with "V" Device & Oak Leaf Cluster). University of Maryland School of Law, J.D., 1972. Admitted to Maryland Bar, 1972. Attorney with Nolan, Plumhoff & Williams, Towson. Partner, McFarland & Masters, L.L.P., 1991-2003. Member, Maryland State Bar Association (administrative law section, 2001-); Baltimore County Bar Association. Member, Baltimore County Democratic Central Committee, 1974 (2nd vice-chair). Chair, Democratic State Central Committee, 13th Legislative District, 1974. Member, English Consul Democratic Club; Ridgeway Democratic Club; District XII Democratic Club. Member, American Legion; Veterans of Foreign Wars; Chesapeake Bay Foundation; Hibernian Society; Patapsco Council no. 1960, Knights of Columbus; Greater Catonsville Chamber of Commerce. Associate member, Arbutus Community Association. Board of Directors, Good Shepherd Center. Past member, Advisory Board, The Children's Home; Advisory Board, Directors of Lighthouse Youth Services Bureau. Member, St. Mark's Roman Catholic Church, Catonsville (usher, past president, parochial school board). Married; two children, one grandson. Died in Baltimore, Maryland, January 17, 2012.
---
Search the Manual
e-mail: mdmanual@maryland.gov

This web site is presented for reference purposes under the doctrine of fair use. When this material is used, in whole or in part, proper citation and credit must be attributed to the Maryland State Archives. PLEASE NOTE: The site may contain material from other sources which may be under copyright. Rights assessment, and full originating source citation, is the responsibility of the user.
---
Tell Us What You Think About the Maryland State Archives Website!
---
© Copyright March 11, 2022 Maryland State Archives