---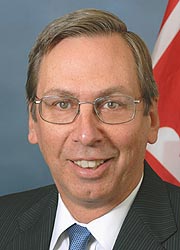 RALPH S. TYLER III
Chief Legal Counsel, 2007

Chief Legal Counsel, Office of Governor, January 17 to September 7, 2007.

Assistant Attorney General, 1982-86, and Chief of Litigation, 1986-96, Office of Attorney General.

Member, Baltimore City Board of School Commissioners, 2003-04. City Solicitor, Baltimore City, 2004-07. Executive Director, Governor-elect's Transition Team, 2006-07.

Ralph S. Tyler, Chief Legal Counsel, Office of Governor, September 2007. Photo by Richard Lippenholz.

---
Maryland Insurance Commissioner, 2007-10.

Member, Task Force on the Availability and Affordability of Property Insurance in Coastal Areas, 2007-08; Climate Change Commission, 2007-10; Task Force on Health Care Access and Reimbursement, 2007-08; Commission to Study the Title Insurance Industry in Maryland, 2008-10; Joint Enforcement Task Force on Workplace Fraud, 2009-10; Public Safety and Essential Services Committee, Baltimore City Mayor's Transition Team, 2010.

Chief Counsel, U.S. Food and Drug Administration, 2010-11.

Born in Cleveland, Ohio, February 7, 1947. University of Illinois, B.A., 1969. Case Western Reserve University, J.D., 1972; Harvard Law School, LL.M., 1977. Admitted to Massachusetts Bar, 1972; Maryland Bar, 1982. Partner, Hogan & Hartson, LLP, 1996-2004. Partner, Venable LLP, 2011-. Member, Maryland State Bar Association (administrative law section; litigation law section); Baltimore City Bar Association. Member, National Association of Insurance Commissioners, 2007-10 (regulatory mondernization work group; vice-chair, market regulation committee). Board of Directors, CollegeBound Foundation. John M. Ferren Pro Bono Award, Hogan & Hartson, LLP, 1999. Maryland Leadership in Law Award, Daily Record, 2004. Dean's Quadrangle Award, College of Liberal Arts and Sciences, University of Illinois, 2006. Influential Marylanders, Daily Record, 2007. Equal Justice Council Award, Legal Bureau, Inc., 2007. Civil Justice Award, Maryland Trial Lawyers Association, 2008. J. Joseph Curran Public Service Award, Maryland Bar Foundation, 2013.
---
© Copyright September 29, 2015 Maryland State Archives