---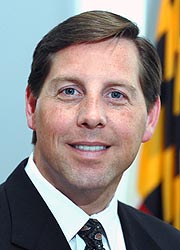 GERARD (JERRY) BODEN
Chief of Staff 2007-08
Deputy Chief of Staff 2008-09

Chief of Staff, Office of Lt. Governor, January 17, 2007 to December 16, 2008. Deputy Chief of Staff, December 17, 2008 to August 31, 2009.

Chief of Staff, Department of Veterans Affairs, September 1, 2009 to February 2015. Executive Director, Governor's Warrior to Worker Council, 2010-15.

---
Born in Astoria, New York, August 22, 1963. Attended Huntington High School, Huntington, New York; U.S. Military Academy at West Point, B.S., 1985. Served in U.S. Army, Ordnance Officer (captain), 1985-90 (army commendation medal with oak leaf cluster; army achievement medal; army overseas service ribbon; army service ribbon). Georgetown University, M.B.A., 1992. Manufacturing Manager, Howmet Corporation, Dover, New Jersey, 1992-96. Production Manager, Component Remanufacturing Specialists, Inc., Mahwah, New Jersey, 1996-98. Operations Manager, Coining Technologies, Inc., Clifton, New Jersey, 1998-99. Director of Operations, Ciena Corporation, Linthicum, Maryland, 2000-03. Director of Operations, Greater Maryland Dental Partners, Clarksville, Maryland, 2004-06. Regional Manager, Offit Kurman Attorneys at Law, 2016-. Toll Fellow, Council of State Governments, 2007. Member, St. Louis Roman Catholic Parish, Clarksville, Maryland.
---
© Copyright July 15, 2016 Maryland State Archives