---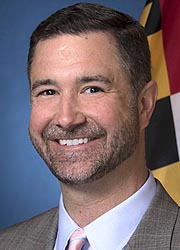 STEPHEN E. SCHATZ
Deputy Chief of Staff, 2019-23
Director of Intergovernmental Affairs, 2022-23

Deputy Chief of Staff, Office of Governor, February 4, 2019 to January 18, 2023. Responsible for oversight of four departments: Agriculture, Environment, Natural Resources, and Planning; as well as the Alcohol and Tobacco Commission; Critical Area Commission for the Chesapeake and Atlantic Coastal Bays, State Board of Elections, Maryland Energy Administration, Maryland Environmental Service, State Lottery and Gaming Control Agency, Public Service Commission, State Workers Compensation Commission, and Uninsured Employers' Fund Board.

Director of Intergovernmental Affairs, Office of Governor, June 1, 2022 to January 18, 2023.

Communications Director, 2015-19, and Legislative and Constituent Services Director, 2018-19, Department of Natural Resources.

---
Born May 2, 1980. Catholic University of America, B.A. (politics), 2002. Communications Director, Darren White for Congress, 2008. Director of Media Relations, National Association of Chain Drug Stores, 2009-11. Senior Director, Media Relations, Communications and Public Affairs, National Retail Federation, 2011-15.
---
Search the Manual
e-mail: mdmanual@maryland.gov

This web site is presented for reference purposes under the doctrine of fair use. When this material is used, in whole or in part, proper citation and credit must be attributed to the Maryland State Archives. PLEASE NOTE: The site may contain material from other sources which may be under copyright. Rights assessment, and full originating source citation, is the responsibility of the user.
---
Tell Us What You Think About the Maryland State Archives Website!
---
© Copyright March 22, 2023 Maryland State Archives