---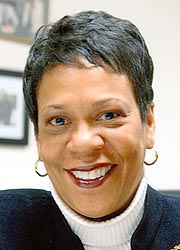 JEANNE D. HITCHCOCK, Esq.
Secretary of Appointments, 2007-15
Chief Legislative Officer, 2013-15

Secretary of Appointments, Office of Governor, January 17, 2007 to January 21, 2015.

Chief Legislative Officer, Office of Governor, July 15, 2013 to January 21, 2015. Chair, Governor's Redistricting Advisory Committee, 2011. Member, Work Group to Consider Gaming Expansion, 2012.

Chair, Workplace Harassment Commission, 2018-.

Deputy Mayor for Intergovernmental Relations, Baltimore City, 2000-07.

---
Assistant Attorney General, 1980-87.

Born in Baltimore, Maryland. Attended Eastern High School, Baltimore, Maryland; Morgan State University, B.A. (sociology), 1968; University of Maryland School of Law, J.D., 1977. Admitted to Maryland Bar, 1977. Member, Maryland State Bar Association. Managing Partner, Fugett & Hitchcock, Baltimore, 1987-89. Director of Urban Market Development, Southland Corporation, 1989-98. Chief Operating Officer, National Association for the Advancement of Colored People, 1998-99. Special Advisor to Vice-President for Government and Community Affairs, The Johns Hopkins University. President, Alliance of Black Women Attorneys of Maryland, 1979-85. Board of Directors, Afro-American newspaper. Board of Directors, CollegeBound Foundation, 2018-. Member, Delta Sigma Theta Sorority.
---
© Copyright March 12, 2018 Maryland State Archives