---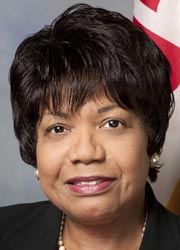 PEGGY J. WATSON
Deputy Chief of Staff, 2007-15

Deputy Chief of Staff, Office of Governor, January 17, 2007 to January 21, 2015. Responsible for departments of: Aging; Budget and Management; Disabilities; Health and Mental Hygiene; and Human Resources; as well as Governor's Office for Children; Office for the Deaf and Hard of Hearing; and Office of Minority Affairs.

Assistant City Treasurer, 1976-78, and Associate City Treasurer, 1978-80, Baltimore City. Chief and Supervisor, Bureau of Treasury Management, Baltimore City, 1980-87. Deputy Director of Finance, Baltimore City, 1987-97.

Director of Finance, Baltimore City, 2000-05. Member, Mayor's Cabinet, Baltimore City, 2000-05. Member, Parking Authority, Baltimore City, 2002-05; Fiscal Operating Committee, Public School System, Baltimore City, 2004-05.

---
Member, Governor-elect's Transition Team, 2006-07. Interim Maryland Insurance Commissioner, June 1 to September 6, 2007.

Born in Baltimore, Maryland. Attended Western High School, Baltimore. Former investment officer and government bond trader, First National Bank of Maryland. Past member, Board of Directors, Baltimore City Foundation, Inc.; Baltimore Development Corporation; Baltimore Public Markets, Inc.; National Aquarium in Baltimore Foundation. Richard A. Lidinsky, Sr. Award for Excellence in Public Service, 2004.
---
© Copyright December 28, 2015 Maryland State Archives