---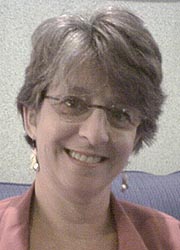 LISA H. KORNBERG
Director, 2008-15

Director, Governor's Office of the Deaf and Hard of Hearing, April 9, 2008 to June 30, 2015.

Member, Task Force on the Needs of Persons with Co-occurring Mental Health and Substance Use Disorders, 2005-06; State Coordinating Committee for Human Services Transportation, 2008-15; Interagency Disabilities Board, 2008-15; Interagency Committee on Aging Services, 2009-15; Task Force to Explore the Incorporation of the Principles of Universal Design for Learning into the Education Systems in Maryland, 2010-11; Task Force to Study the Establishment of a Deaf Culture Digital Library, 2012-13; Early Hearing Detection and Intervention Advisory Council, 2014-15.

---
University of Maryland College Park, B.S. (recreation therapy), 1978; Gallaudet University, (special student, dept. of counseling), 1980-82; George Mason University, M.Ed. (counseling & development), 1985. Psychotherapist, Clinical Supervisor, and Director of Clinical Services, Institute of Deafness of Family Service Foundation, 1985-. Director, Psychiatric Rehabilitation Program, Arundel Lodge, Inc., 1996-2001. Division Director, People Encouraging People, Inc., 2001-08. Member, Maryland Association of the Deaf; Mental Health Advisory Board; Maryland Association of Professional Counselors; American Counselors Association; American Mental Health Counselors Association; U.S. Psychiatric Rehabilitation Association. Outstanding Deaf/Hard of Hearing Leader of the Year, Hamilton Relay, 2009.
---
Search the Manual
e-mail: mdmanual@maryland.gov

This web site is presented for reference purposes under the doctrine of fair use. When this material is used, in whole or in part, proper citation and credit must be attributed to the Maryland State Archives. PLEASE NOTE: The site may contain material from other sources which may be under copyright. Rights assessment, and full originating source citation, is the responsibility of the user.
---
Tell Us What You Think About the Maryland State Archives Website!
---
© Copyright September 06, 2023 Maryland State Archives