---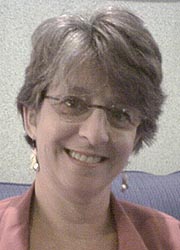 LISA H. KORNBERG
Director, 2008-15

Director, Governor's Office of the Deaf and Hard of Hearing, April 9, 2008 to June 30, 2015.

Member, Task Force on the Needs of Persons with Co-occurring Mental Health and Substance Use Disorders, 2005-06; State Coordinating Committee for Human Services Transportation, 2008-15; Interagency Disabilities Board, 2008-15; Interagency Committee on Aging Services, 2009-15; Task Force to Explore the Incorporation of the Principles of Universal Design for Learning into the Education Systems in Maryland, 2010-11; Task Force to Study the Establishment of a Deaf Culture Digital Library, 2012-13; Early Hearing Detection and Intervention Advisory Council, 2014-15.

---
University of Maryland College Park, B.S. (recreation therapy), 1978; Gallaudet University, (special student, dept. of counseling), 1980-82; George Mason University, M.Ed. (counseling & development), 1985. Division Director, People Encouraging People, Inc., 2001-08. Former Mental Health Therapist, Clinical Supervisor, and Director of Clinical Services, Institute of Deafness of Family Service Foundation. Member, Maryland Association of the Deaf; Mental Health Advisory Board; Maryland Association of Professional Counselors; American Counselors Association; American Mental Health Counselors Association; U.S. Psychiatric Rehabilitation Association. Outstanding Deaf/Hard of Hearing Leader of the Year, Hamilton Relay, 2009.
---
© Copyright September 29, 2015 Maryland State Archives