FORMER EXECUTIVE DIRECTOR
---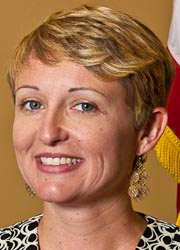 TAMMY M. BROWN
Executive Director, 2012-15

Executive Director, Governor's Office of Crime Control and Prevention, September 5, 2012 to January 6, 2015. Resigned January 6, 2015. Member, Maryland Access to Justice Commission, 2012-14; Maryland Integrated Map Executive Committee, 2012-14; Task Force to Study the Laws and Policies relating to Representation of Indigent Criminal Defendants by the Office of the Public Defender, 2012-14; Cease Fire Council, 2012-15; Criminal Justice Information Advisory Board, 2012-15; Maryland State Drug and Alcohol Abuse Council, 2012-15; Governor's Family Violence Council, 2012-15; Council for the Procurement of Health, Educational and Social Services, 2012-15; Sexual Offender Advisory Board, 2012-15; State Board of Victim Services, 2012-15. Chair, Task Force on Juvenile Court Jurisdiction, 2013-14. Member, Governor's Commission for Effective Community Inclusion of Individuals with Intellectual and Developmental Disabilities, 2013-15; Governor's Commission to Reform Maryland's Pretrial System, 2014; Council on Open Data, 2014-15.

---
Executive Director, Criminal Justice Coordinating Council, Baltimore City, 2003-07.

Chief of Staff, Department of Juvenile Services, 2008-12 (director of communications, 2007-08). Designee, Task Force on Prisoner Re-Entry, 2011.

Chief, External Affairs Division, Baltimore City State's Attorney's Office, 2015-16.

The American University, B.A. (communications, legal institutions, economics & governments), 1998; University of Baltimore School of Law, J.D., 2002 (director, domestic violence advocacy project, 2001-02). Admitted to Maryland Bar, 2002; U.S. District Court, District of Maryland, 2003. Attorney, Open Society Fellow. Ex-Offender Project and Homeless Persons Representation Project, 2002-03. Very Important Provessional, Daily Record, 2013. Leading Women Award, Daily Record, 2014.
---
Search the Manual
e-mail: mdmanual@maryland.gov

This web site is presented for reference purposes under the doctrine of fair use. When this material is used, in whole or in part, proper citation and credit must be attributed to the Maryland State Archives. PLEASE NOTE: The site may contain material from other sources which may be under copyright. Rights assessment, and full originating source citation, is the responsibility of the user.
---
Tell Us What You Think About the Maryland State Archives Website!
---
© Copyright March 14, 2022 Maryland State Archives