FORMER EXECUTIVE DIRECTOR
---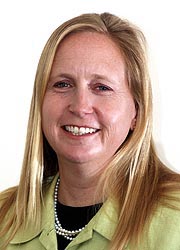 KRISTEN M. MAHONEY, Esq.
Executive Director, 2007-12

Executive Director, Governor's Office of Crime Control and Prevention, February 2007 to July 3, 2012.

Member, Cease Fire Council, 2007-12; Criminal Justice Information Advisory Board, 2007-12; Maryland State Drug and Alcohol Abuse Council, 2007-12; Drug Treatment Court Oversight Committee, 2007-12; Governor's Family Violence Council (formerly Governor's Council on Family Violence Prevention), 2007-12; Juvenile Grant Planning and Review Council, 2007-08, 2010-12; Mental Health Oversight Committee, 2007-12; State Board of Victim Services, 2007-12; Maryland Access to Justice Commission, 2008-12; Sexual Offender Advisory Board, 2010-12; Maryland Integrated Map Executive Committee, 2012.

---
Senior Policy Analyst, Office of Community-Oriented Policing Services, U.S. Department of Justice, 1994-98. Executive Director, Mayor's Office on Criminal Justice, 2003-04. Director of Grants and Government Relations, 1998-2002, and Chief, Technical Services Division, 2005-07, Baltimore City Police Department. Member, Board of Ethics, Baltimore City, 2001; Criminal Justice Coordinating Council, Baltimore City, 2003-04. Member, Bail System Task Force, 2003-07. Board of Directors, Hoffberger Center for Professional Ethics, University of Baltimore, 2004-07. Member, Public Safety, Corrections and State Police Work Group, Governor-elect's Transition Team, 2006-07; Delinquency Prevention and Diversion Services Task Force, 2007-09.

Interim Secretary of Juvenile Services, January 8 to February 4, 2011.

Deputy Director, Bureau of Justice Assistance, U.S. Department of Justice, 2012-.

Sweet Briar College, B.A. (history & government), 1989; University of Baltimore, J.D., 1992. Admitted to Maryland Bar, 1992. Attorney, Legal Aid Bureau, of Maryland, 1993-94. Board of Directors, Homeless Persons Representation Project, 2004-05. Board of Directors, National Criminal Justice Association, 2009-10. President, National Criminal Justice Association, 2010-. "40 under 40" Award, Baltimore Business Journal, 2006. DeStefano Service Award, YWCA of Annapolis and Anne Arundel County, 2011. Graduate, Leadership Maryland, 2011.
---
Search the Manual
e-mail: mdmanual@maryland.gov

This web site is presented for reference purposes under the doctrine of fair use. When this material is used, in whole or in part, proper citation and credit must be attributed to the Maryland State Archives. PLEASE NOTE: The site may contain material from other sources which may be under copyright. Rights assessment, and full originating source citation, is the responsibility of the user.
---
Tell Us What You Think About the Maryland State Archives Website!
---
© Copyright March 14, 2022 Maryland State Archives