---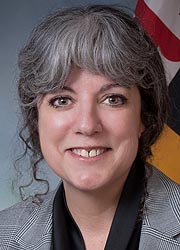 ARLENE F. LEE
Executive Director, 2005-07, 2015-18

Executive Director, Governor's Office for Children, July 2005 to June 29, 2007, and February 17, 2015 to January 22, 2018. Retired January 22, 2018.

Chair, Children's Cabinet, 2015-18; Advisory Council to the Children's Cabinet, 2015-18.

---
Member, Advisory Board on After-School and Summer Opportunity Programs, 2015-16; Behavioral Health Advisory Council, 2015-18; State Child Fatality Review Team, 2015-18; State Early Childhood Advisory Council, 2015-18; Children's Environmental Health and Protection Advisory Council, 2015-18; Interagency Disabilities Board, 2015-18; Maryland State Drug and Alcohol Abuse Council, 2015; Governor's Family Violence Council, 2015-18; Maryland School-Based Health Center Policy Advisory Council, 2015; Maryland Commission on Suicide Prevention, 2015-18; Task Force to Study the Restraint, Searches, and Needs of Children in the Juvenile Justice System, 2016-17; Two-Generation Family Economic Security Commission, 2017-18.

Chair, Children's Cabinet, 2005-07; Advisory Council for Children, 2005-07. Member, State Child Fatality Review Team , 2005-07; Interagency Disabilities Board , 2005-07; Maryland State Drug and Alcohol Abuse Council, 2005-07; Mental Health Transformation Working Group, 2005-07. Chair, Maryland Child-Care Subsidy Coordinating Council, 2006-07. Member, Superintendent's Family Involvement Council, 2006-07; Governor's Council on Family Violence Prevention, 2006-07; State Advisory Board for Juvenile Services, 2006-07; Task Force on Universal Preschool Education, 2006-07.

Chair, National Task Force on Subsidized and Public Housing, 1994. Member, Governor's Advisory Board on Homelessness, 1994-96. Director, Local Management Board for Children's and Family Services, Kent County, 1997-2001. Member, Safe Schools Interagency Steering Committee, 2002. Youth Strategies Manager, Governor's Office of Crime Control and Prevention, 2001-02. Member, Cabinet Council on Criminal and Juvenile Justice, 2005.

Attended West Nottingham Academy; Washington College, B.A. (sociology), 1982; Washington College of Law, The American University, J.D., 1987. Admitted to Maryland Bar, 1988. Member, Maryland State Bar Association; Women's Bar Association of Maryland. Staff Attorney, Legal Aid Bureau, Centreville, 1988-94. Project Director and Staff Attorney, Commission on Human Relations, Eastern Shore Hospital Center, 1994-95. Member, Manager & Attorney, Lee, Leahy & McCaig, LLC, 1994-98. Director, Federal Resource Center for Children of Prisoners, Child Welfare League of America, 2002-05. Member, Alumni Council, Washington College, 1983-93. Board of Directors, Big Brothers and Big Sisters of the Eastern Shore, 1992-94. Vice-President, Parents, Teachers, and Friends of Kent School, Inc., 1997-99. Board of Directors, Chester Bridge Foundation, Inc., 1998-2002. Chair, Legislative Committee, Maryland Association of Local Management Board Directors, 2000-01. Affiliate, Center for the Prevention of Youth Violence, The Johns Hopkins University, 2002. Founding member, Imagination Alley (a learning center for young artists). Past president, Chesapeake Dispute Resolution Center. Maryland's 100 Top Women, Daily Record, 2007. Innovators Award for Children of Incarcerated Parents, Alameda County Children of Incarcerated Parents Partnership, 2017.
---
Search the Manual
e-mail: mdmanual@maryland.gov

This web site is presented for reference purposes under the doctrine of fair use. When this material is used, in whole or in part, proper citation and credit must be attributed to the Maryland State Archives. PLEASE NOTE: The site may contain material from other sources which may be under copyright. Rights assessment, and full originating source citation, is the responsibility of the user.
---
Tell Us What You Think About the Maryland State Archives Website!
---
© Copyright March 14, 2022 Maryland State Archives