Constance A. Morella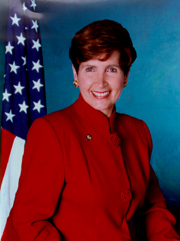 Constance A. Morella, an educator and political leader has always led the way on issues of concern to women, especially in the areas of domestic violence, sexual harassment, reproductive freedom, and health. A Montgomery County resident for 39 years, she has made extraordinary contributions as a mother, as a citizen activist, and now as a legislator to Montgomery County, to the State of Maryland, and at the national level.
Morella, a mother to nine children (three of her own and six of her late sister who died from cancer) and an English professor at Montgomery College (1970-1986), began her political career in 1972 as a founding member of the Montgomery County Commission for Women and served as its President (1973-1974). During her term, she testified for equal access in education, housing, and employment, thus helping to open many doors that had been closed to women. Her political roots stem from her involvement in the women's rights movement, and she traces her start in civic activism and politics to her experience in the Commission for Women.
Congresswoman Morella was elected to the Maryland House of Delegates in 1978 and served for eight years before her election to the U.S. Congress in 1986. She has successfully initiated legislation concerned with domestic violence and child support, as well as programs for the elderly, environmental protection, health care reform, and human rights issues.
It was Congresswoman Morella who convinced Governor Schaefer to review the cases of several Maryland women imprisoned for killing or attacking their abusers. She also encouraged him to initiate legislation that allows expert testimony on battered women's syndrome to be heard in Maryland's courts. Morella has introduced several pieces of federal legislation, including the Battered Women's Testimony Act, authorizing funds to assist indigent battered women in obtaining expert witnesses, and the Judicial Training Act, authorizing funding for programs to educate judges about domestic violence and to review child custody decisions involving domestic violence. Both bills were passed by Congress in 1992 and are now public law.
Morella was one of the early advocates for increased research on women's health. She has sponsored legislation to increase research on HIV/AIDS in women and to increase access to preventive services for women. She has also introduced a bill to increase research on alcoholism in women. These bills are part of the Women's Health Equity Act.
Congresswoman Morella is active in international and human rights issues. She is the first woman chair of the Arms Control and Foreign Policy Caucus, serves on the Executive Committee of the Congressional Human Rights Caucus, and is a member of the Steering Committee of Congressional Friends of Human Rights.
The Congresswoman's long and distinguished career, combined with her devotion to family and civic activism, serves as a role model for all the women of Maryland, regardless of their political affiliation.
---