Lillian C. Compton
1884-1973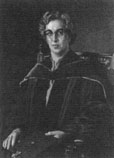 Lillian C. Compton was born in 1884, one of 12 children of Peter V. and Permelia (Catlett) Compton. She attended school in Frederick and before her school graduation she scored so well on Maryland State Normal School examinations that she was admitted to the teaching school without a high school diploma.
In 1904, after graduating from the three-year State Normal School program, she began her teaching career in Allegany County and joined Grace United Methodist Church. In 1916, she entered West Virginia University and earned an A.B. degree. After her graduation, she became Superintendent of Schools in Sutton, W.V., and two years later, she accepted the position of Supervisor of Elementary Education in Allegany County. She was the first woman to hold this position on a county-wide basis.
She continued her education and earned a Master's degree. Later, she taught classes at Columbia University, Fairmont State, Johns Hopkins University and Louisiana State University.
On February 1, 1945, Lillian C. Compton took over as President of the State Teachers College at Frostburg. Her mission as President was to prepare the College for its closing. Enrollment stood at a mere sixty-two students. With outdated facilities and inadequate funding, the College was only accredited by the Maryland State Department of Education. As early as 1943, a movement to close the institution had arisen in the State Legislature, which eventually culminated in the Marbury Report. But the end of World War II brought a drastic change in the College environment. In 1946, enrollment increased to 274 students, many being admitted under the new GI Bill. Though the movement to close the College persisted, it seemed misguided to those on the scene and was roundly opposed by both private citizens and civic groups in Frostburg and Western Maryland. With the strong support of State Superintendent of Schools Thomas Pullen, Jr., and Governor William Preston Jr., the General Assembly was petitioned to keep the School open and the Marbury Commission's recommendations died without ever being acted upon.
Under Compton's leadership, enrollment grew from 62 in 1945 to 500 in 1954, the faculty increased from 13 to 34 members, and the size of the campus increased from eight to 40 acres of land. In addition to plant expansion, she initiated programs in curriculum development, adding a program to train junior high school teachers. She introduced the Nurses' Training Program in conjunction with Memorial Hospital in Cumberland. The college received accreditation form the Middle States Association of Colleges and Secondary School's and from the American Association of Colleges for Teacher Education. The physical plant grew by the addition of Garrett Hall and Lowndes Hall which housed both the library and administrative offices. Even more impressive was the completion of a new auditorium/gymnasium to house music and physical education programs. The latter building was named for Compton upon her mandatory retirement on her seventieth birthday, December 12, 1954.
The University of Maryland presented Compton with an honorary degree, and on May 27, 1973, Frostburg State College awarded her an honorary Doctor of Humane Letters. During the ceremony, the President of Frostburg called Miss Compton a "fore-runner" of today's women's liberation movement but then he added, "except that you couldn't be called a liberated woman because I can see that you were never enslaved. Simply and forthrightly, with a determination and honesty which would intimidate the hardest politicians, you told it like it was, and you were not easily ignored."
Savior and builder of a college, outstanding practicing Christian and "devoted United Methodist laywoman," Lillian Compton had a long, full life of service that touched and influenced many lives in Maryland. She died on August 1, 1973, after a long illness.
---