In the Aftermath of 'Glory'
Maryland State Archives: Documents for the Classroom
350 Rowe Boulevard,
Annapolis, MD 21401
Phone: (410) 260-6400
Internet: http://www.mdarchives.state.md.us
e-mail: archives@mdarchives.state.md.us
---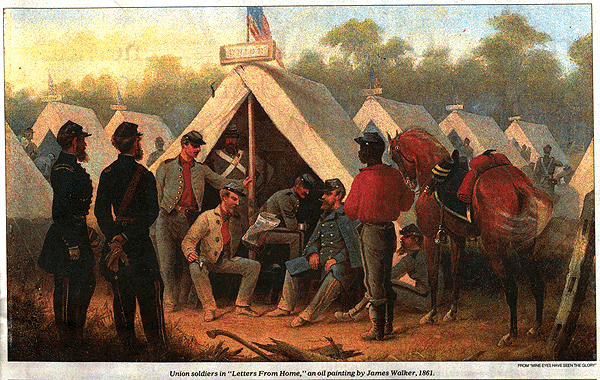 From Harold Holzer and Mark E. Neely, Jr. Mine Eyes Have Seen the Glory. The Civil War in Art.
(New York: Orion Books, 1994), as reproduced in The New York Times Book Review, June 12, 1994, p. 3.
---
Documents:
These pdfs are viewable with the free Adobe Acrobat Reader.
---
The Documents for the Classroom series of the Maryland State Archives was designed and developed by Dr. Edward C. Papenfuse and Dr. M. Mercer Neale and was prepared with the assistance of R. J. Rockefeller, Lynne MacAdam, Leigh Bond, Matt Brown, Laura Lisy, and other members of the Archives staff. MSA SC 2221-8. Publication no. 1727. ©1993 Maryland State Archives, rev. 1998.

For further inquiries, please contact Dr. Papenfuse at:
E-mail: edp@mdarchives.state.md.us
Phone: MD toll free 800-235-4045 or 410-260-6403.


This web site is presented for reference purposes under the doctrine of fair use. When this material is used, in whole or in part, proper citation and credit must be attributed to the Maryland State Archives. PLEASE NOTE: The site may contain material from other sources which may be under copyright. Rights assessment, and full originating source citation, is the responsibility of the user.
---
Tell Us What You Think About the Maryland State Archives Website!
---
Copyright December 14, 2004 Maryland State Archives