---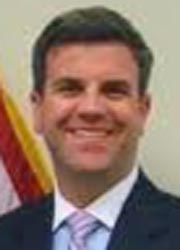 JASON A. MALOTT, Register of Wills (Democrat)
---
Register of Wills, Washington County, since December 1, 2010. Deputy Register of Wills, Novermber 1999 to 2007, and Chief Deputy Register of Wills, 2007 to November 30, 2010, Washington County.

Deputy Clerk, Circuit Court, Washington County, August 1989 to November 1999. Member, Board of Election Supervisors, Washington County, 1993-95.

Born in Hagerstown, Maryland, November 21, 1969. Attended Williamsport High School; Hagerstown Junior College, A.A., 1990; Shepherd University. Board of Directors, Mental Health Center of Western Maryland, 1999-2005. Member, Washington County Democratic Central Committee, 2006-10. Member, Maryland Association of the Judges of the Orphans' Court, 2010-13; Maryland Register of Wills Association, 2010- (automation committee; probate review committee). Member, Parent-Teacher Association, Williamsport Elementary School, 2007-; Post no. 202 (Williamsport), S.A.L. unit, American Legion; Conococheague Tribe no. 84 (Williamsport), Improved Order of Red Men. Democrat of the Year, Washington County Democratic Central Committee, 2011. Member, Downsville Christian Church (Disciples of Christ). Married; two children.
---
© Copyright September 29, 2015 Maryland State Archives