---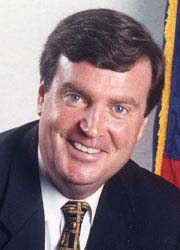 DOUGLAS M. DUNCAN
County Executive (Democrat), 1994-2006

County Executive, Montgomery County, December 1994 to December 4, 2006. Board of Directors, Metropolitan Washington Council of Governments, 1994-2006. Member, Metropolitan Washington Air Quality Committee, 1994-2006. Member, Maryland Comprehensive Transit Plan Transit Advisory Panel, 1998-99; Maryland Commission for Celebration 2000, 1997-2000.

---
Member, City Council, Rockville, 1982-87. Mayor of Rockville, 1987-93. Former member, Criminal Justice Coordinating Commission, Montgomery County.

Vice-President for Administrative Affairs, University of Maryland, College Park, 2007-08.

Member, Governor-elect's Transition Team, 2014-.

Born October 25, 1955. Attended St. John's College High School; Columbia University, B.A. (psychology & political science), 1976. Delegate, Democratic Party National Convention, 1996, 2000, 2004. Senior Vice-President, Civic US, 2008-. Chair, Suburban Maryland Transportation Alliance, 2011-. Chief Executive Officer, Leadership Greater Washington, 2014-. Elizabeth and David Scull Memorial Public Service Award, Metropolitan Washington Council of Governments, 2001. Award for Outstanding Public Leadership in Serving the Disability Community, Commission on People with Disabilities, 2001. Public Leadership in the Arts Award for County Arts Leadership, Americans for the Arts, 2003. International Public Official Award, Lambda Alpha International (honorary land economics society), 2003. Leadership Award, CASA de Maryland, 2004. Founders Award, Cultural Alliance of Greater Washington, 2006. Legacy Award, Montgomery County Chamber of Commerce, 2006. Community Builder Award, Greater Washington, DC, Chapter, Organization of Chinese Americans, 2006. Married; five children.
---
© Copyright September 29, 2015 Maryland State Archives