---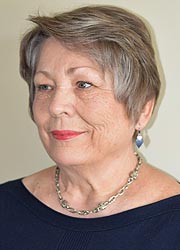 ANNE L. DODD, Chief Judge (Democrat)
Orphans' Court
Courthouse, 8360 Court Ave., Ellicott City, MD 21043
(410) 313-2133; fax: (410) 313-3409
---
Chief Judge, Orphans' Court, Howard County, since April 7, 2015 (judge since Dec. 8, 2010). Member, Conference of Orphans' Court Judges, 2014-.

Member, Board of Education, Howard County, 1984-90 (chair, 1986-89).

Stratford College; University of Madrid; Radford College, B.A. Teacher (spanish & english), 1967-71. Village Manager, Kings Contrivance (east Columbia), 1979-2006. Founding President, One-Month's Rent Initiative, 2004-. Past chair, Hopewell Pool Committee; Owen Brown Middle School Arrival Check Program. Past member, Foreign Language Textbook Review Committee; Central Library Building Board. Past member, Budget Committee, Columbia Association. Past coordinator, Concerned Citizens for a Second Elementary School in Owen Brown. Married; two children, five grandchildren.
---
© Copyright September 29, 2015 Maryland State Archives