---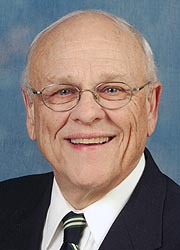 JAMES V. (CAPT. JIM) McMAHAN, JR., Vice-President, County Council (Republican)
---
Vice-President, County Council, Harford County, since December 1, 2014 (member, representing District C, since Dec. 2006).

Member, Board of Health, Harford County, 2006-; Criminal Justice Coordinating Council, Harford County, 2006-; Emergency Planning Commission, Harford County, 2006-.

Member, Town Commission, Bel Air, 2003-06.

Born in Bel Air, Maryland. Western Maryland College, B.A., 1960; University of Baltimore School of Law; Academy of Excellence for Local Governance, University of Maryland, 2011. Served in U.S. Army Signal Corps; Maryland Defense Force (maryland meritorious service medal; french national defense medal, gold echelon, 2009). General Manager, WVOB, Bel Air, 1968-78 (morning show host, 1978-2003). Life Member, Bel Air Volunteer Fire Company. Past president and founder, Ripken Museum, Aberdeen. Past president, Bel Air Chamber of Commerce. One of Maryland's Five Outstanding Young Men, Maryland Jaycees, 1967.
---
© Copyright May 02, 2017 Maryland State Archives