PRESIDENT
---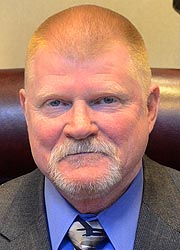 THOMAS C. HEJL, President, Board of County Commissioners (Republican)
---
President, Board of County Commissioners, Calvert County, since January 10, 2017 (at large member since Dec. 16, 2014; vice-president, Dec. 22, 2015 to Jan. 10, 2017).

Member, Board of Health, Calvert County, 2014-; Tri-County Council for Southern Maryland, 2014-; Economic Development Commission, Calvert County, 2015-17.

Assistant Sheriff, Calvert County, 2002-13 (major, 2002-07; lt. col., 2007-13). Investigator, Calvert County State's Attorney's Office, 1998-2002.

Commander, Technical Investigative Services Division, Bureau of Drug Enforcement, Maryland State Police, 1990-96 (started as State Police cadet in 1974; retired as Lieutenant in 1996).

Born in Baltimore, Maryland, June 4, 1953. Attended Baltimore Polytechnic Institute, 1971. Chief Operating Officer, Blackhawk Investigations, 1996-98. Board of Directors, United Way of Calvert County, 2007- (currently chair). Member, Maryland Troopers Association; Maryland State Police Alumni Association; Maryland Sheriffs' Association.
---
© Copyright November 14, 2017 Maryland State Archives