---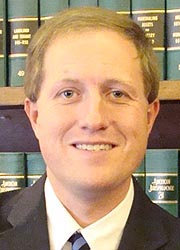 DAVID S. MARKS, Member, County Council (Republican)
---
Member, County Council, Baltimore County, representing Councilmanic District 5, since December 6, 2010.

Member, East Joppa Road Corridor Study Committee, 2001-03. Vice-Chair, Baltimore County Historical Trust, 2005-10 (member, 1996-2010). Member, Spending Affordability Committee, Baltimore County, 2010-.

Policy Analyst, Federal Highway Administration, 1997-2001, 2007-10. Congressional Relations Officer, U.S. Department of Transportation, 1999-2001. Chief of Staff, Maryland Department of Transportation, 2003-07. Staff, National Transportation Policy and Revenue Study Commission, 2007-08. Member, Critical Area Commission for the Chesapeake and Atlantic Coastal Bays, 2015-.

Born in Towson, Maryland, September 24, 1973. Attended Perry Hall High School; University of Maryland, College Park, B.A. (political science), 1995; The Johns Hopkins University, M.A. (public policy), 1997. Adjunct instructor, Loyola College Maryland, 2012-. Co-founder, Perry Hall Town Fair Committee, 1997 (volunteer, 2005-10). Co-founder, Perry Hall Community Concerts, 2000 (volunteer, 2000-10). Co-founder, Friends of Perry Hall Mansion, 2007 (member, 2007-). Co-founder, Perry Hall High School Alumni Association (executive board; president, 2008). Member, Baltimore County Republican Central Committee, 1994-2002, 2006-10; Republican Club of Northeast Baltimore County (president, 1998, 2004); 42nd District Republican Club. Vice-Chair, Belair Road Beautification Committee, 1997-2001. President, Perry Hall Improvement Association, 1999-2003, 2007-10. Member, Belair Road Safety Task Force, 2004-06; Northeast Area Educational Advisory Council, 2004-06 (president, 2006). Dulaney District Chair, Baltimore Area Council, Boy Scouts of America, 2014-. Author, Crossroads: The History of Perry Hall, Maryland (1999, 2000). Outstanding Young Marylander Award, Maryland Jaycees, 2004. Member of the Year, Baltimore Chapter, Women's Transportation Seminar, 2005. Legislator of the Year Award, Mid-Atlantic Off Road Enthusiasts, 2012. Community Volunteer Award, Maryland Recreation and Parks Association, 2013. Government Preservation Award, Baltimore County Historical Trust, 2014. Married; two children.
---
© Copyright December 23, 2015 Maryland State Archives