CHAIR
---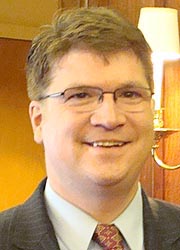 THOMAS E. QUIRK, Chair, County Council (Democrat)
---
Chair, County Council, Baltimore County, January 7, 2013 to January 6, 2014, and since January 3, 2017 (member, representing Councilmanic District 1, since Dec. 6, 2010).

Chair, Spending Affordability Committee, Baltimore County, 2012- (member, 2010-).

Western Maryland College (now McDaniel College), B.A. (economics, business administration, political science). Certified financial planner. Owner, Retirement and Investment Group. Board of Directors, Community College of Baltimore County Foundation. Vice-President, Greater Catonsville Chamber of Commerce. Past president, Oak Crest Community Association. Married; two children.
---
© Copyright January 09, 2017 Maryland State Archives