---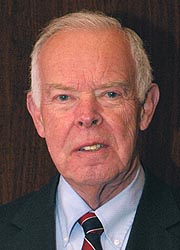 T. BRYAN McINTIRE
Member, County Council (Republican), 1994-2010

Member, County Council, Baltimore County, representing Councilmanic District 3, December 1994 to December 6, 2010.

State's Attorney, Carroll County, 1962-70. Master in Chancery, Carroll County Circuit Court, 1979-2002. Past member, Trial Court Judicial Nominating Commission, 8th Commission District (Carroll County). Member, Criminal Justice Information Advisory Board, 2004-05. Board of Trustees, Chesapeake Bay Trust, 2004-.

---
Attended Baltimore public schools; St. Paul's School; The Johns Hopkins University, B.A.; University of Baltimore School of Law, LL.B. Admitted to Maryland Bar. Attorney. Former member, Maryland State Bar Association (board of governors). Served in Maryland National Guard (major, ret.). Former trustee, 4-H Foundation. Chair, Reservoir Watershed Protection Subcommittee. McHarg Award, Valleys Planning Council, 2002. Married; five children; five grandchildren; one great-grandchild.
---
© Copyright September 29, 2015 Maryland State Archives