---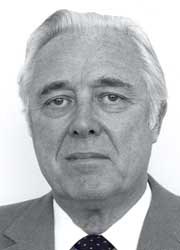 FREDERICK L. DEWBERRY
Acting County Executive (Democrat), 1974
Deputy Secretary of Transportation, 1979-84
Secretary of Licensing & Regulation, 1984-86

Member, Baltimore County Council, 1962-66 (chair, 1964-66). Intergovernmental Relations Officer, 1967-73, and Administrative Officer, 1973, Baltimore County.

Acting County Executive, Baltimore County, 1974.

Executive Assistant to Governor, 1975-77. Member, Advisory Committee to Maryland Commission on Intergovernmental Cooperation, 1975-77. Chair, Governor's Special Committee to Review the Management of the Department of Health and Mental Hygeine, 1976; Governor's Task Force to Evaluate the Reorganization of the Executive Branch of State Government, 1976-77. Executive Director, Regional Planning Council, 1977-79.

---
Deputy Secretary of Transportation, 1979-84. Member, Task Force on Public Safety and Correctional Services, 1979-80; Council on Toxic Substances, 1979-82; Transportation Professional Services Selection Board, 1980-84.

Secretary of Licensing and Regulation, 1984-86. Member, Governor's Executive Council, 1984-86. Member, Asbestos Insulation Problem Task Force, 1984. Chair, Productivity Planning Committee, 1984-85. Member, Governor's Commission on Workmen's Compensation Laws, 1985-86; Task Force on Health Care Cost Containment, 1984. President, Blind Industries and Services of Maryland, 1987-88.

Born in Baltimore, Maryland, May 9, 1921. Loyola College, A.B., 1943. Served in U.S. Naval Reserve (lieutenant, senior grade), 1943-46. University of Baltimore School of Law, J.D., 1964. Admitted to Maryland Bar, 1966. Attorney. Married, five children.
---
© Copyright September 29, 2015 Maryland State Archives