GOVERNOR'S ADVISORY COMMISSION ON MARYLAND WINE & GRAPE GROWING
Roy W. Crow, Chair (chosen by Governor), 2018
---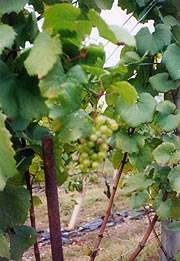 Appointed by Governor to 3-year terms: Joanna White Kille, 2011.

Eric C. Aellen; Joseph A. Fiola, Ph.D.; Robert C. White, Jr. Terms expire 2012.

Jennifer W. Layton; two vacancies. Terms expire 2017.

Appointed by Senate President: Ronald N. Young

Appointed by House Speaker: one vacancy

Staff: Karen M. Fedor

c/o Marketing & Agricultural Development, Dept. of Agriculture
Wayne A. Cawley, Jr. Building, 50 Harry S Truman Parkway, Annapolis, MD 21401 - 8960
(410) 841-5773
e-mail: karen.fedor@maryland.gov

Grapevines, Woodville (Frederick County), Maryland, October 2005. Photo by Diane F. Evartt.

---
Annual Report to Governor (Chapter 319, Acts of 2005).
---
In July 2005, the Governor's Advisory Commission on Maryland Wine and Grape Growing was authorized (Chapter 319, Acts of 2005).
The Commission advises the Secretary of Agriculture on the allocation of funds from the Maryland Wine and Grape Promotion Fund. Additionally, the Commission identifies strategies to facilitate the growth of viticulture in Maryland.
Ten members constitute the Commission. Eight of these are appointed to three-year terms by the Governor. One member is named by the Senate President, and one by the House Speaker (Chapters 297 & 298, Acts of 2012; Code Agriculture Article, sec. 10-1202).
---
© Copyright June 05, 2017 Maryland State Archives