---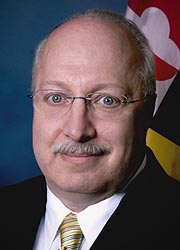 ELLIOT H. SCHLANGER
Secretary of Information Technology, 2008-13

Secretary of Information Technology, July 1, 2008 to August 26, 2013.

Member, Governor's Executive Council, 2008-13. Member, Maryland Rural Broadband Coordination Board, 2008-10; Criminal Justice Information Advisory Board, 2008-13; Statewide Interoperability Executive Committee, 2008-13; Interdepartmental Committee for Minority Affairs, 2008-13; Management Committee, EMaryland Application Service Provider Consortium, 2008-13. Chair, Information Technology Advisory Council, 2008-13. Board of Directors, Assistive Technology Loan Program, 2009-13. Chair, Maryland Integrated Map Executive Committee, 2009-13. Member, Highway Access Permit Stakeholder Review Group, 2010; Health and Human Services Referral Board, 2010-13; Maryland Commission on Cybersecurity Innovation and Excellence, 2011-13.

---
Chief Information Officer, City of Baltimore, 1999-2006.

Chief of Information Technology and State Chief Information Officer, Department of Budget and Management, 2007-08. Member, Criminal Justice Information Advisory Board, 2007-08.

Director of Cybersecurity, Department of Information Technology, 2013-15.

University of Delaware, B.Ch.E. (chemical engineering), 1975; University of Miami, M.B.A., 1977. Director, Information Systems & CAE/CAD (Computer Aided Engineering/Computer Aided Design), Raytheon Engineers & Constructors, Inc., 1979-99. Founding Principal and chief technology engineer, Metrix Technology Engineering, L.L.C., 2006-07. Customer Relationship Management (CRM) Excellence Award, Gartner Research, 2003. CIO 100 Leadership, Innovation and Agility Award, CIO Magazine, 2004. Innovations in American Government Award, John F. Kennedy School of Government, Harvard University, 2004.
---
© Copyright September 29, 2015 Maryland State Archives