---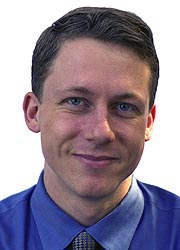 ERIC G. LUEDTKE
Democrat, District 14, Montgomery County
House Office Building, Room 222
6 Bladen St., Annapolis, MD 21401
(410) 841-3110, (301) 858-3110
1-800-492-7122, ext. 3110 (toll free)
e-mail: eric.luedtke@house.state.md.us
fax: (410) 841-3053, (301) 858-3053
---
Member of House of Delegates since January 12, 2011. Member, Ways and Means Committee, 2011- (transportation subcommittee, 2011-12; vice-chair's subcommittee, 2013-16; chair, finance resources subcommittee, 2013-17, member, 2011-12; chair, education subcommittee, 2017-, member, 2011-12). House Chair, Joint Committee on Gaming Oversight, 2013-. Member, Education Committee, Montgomery County Delegation, 2015- (member, bi-county agency committee, 2011-14; vice-chair, metro washington area committee, 2015).

Member, Maryland Commission on Disabilities, 2011-. Alternate member, Work Group to Consider Gaming Expansion, 2012. Member, Task Force to Study the Establishment of a Deaf Culture Digital Library, 2012-13; Commission on Special Education Access and Equity, 2013-14; Task Force to Study the Impact of Ocean Acidification on State Waters, 2014-15.

Born in Washington, DC, November 13, 1981. Attended Thomas S. Wootton High School, Rockville, Maryland; University of Maryland, College Park, B.A. (government & history), 2002; M.Ed. (social studies education), 2004. Teacher (secondary social studies education). Teacher. Montgomery County public schools, 2004-. Member, Executive Committee, Montgomery County Sierra Club, 1997-98, 2005-07. Member, National Education Association, 2004-. Board of Directors, District 14 Democratic Club, 2005-08; Montgomery County Education Association, 2005-10. Member, East County Citizens Advisory Board, 2008-10. Board of Directors, Sandy Spring Museum, 2013-. Married; one child.
---
© Copyright February 15, 2017 Maryland State Archives