---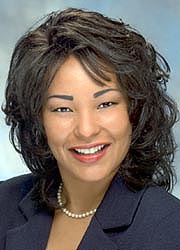 JILL P. CARTER
Democrat, District 41, Baltimore City
House Office Building, Room 416
6 Bladen St., Annapolis, MD 21401
(410) 841-3268, (301) 858-3268
1-800-492-7122, ext. 3268 (toll free)
e-mail: jill.carter@house.state.md.us
fax: (410) 841-3251, (301) 858-3251
---
Member of House of Delegates since January 8, 2003. Member, Judiciary Committee, 2003- (juvenile law subcommittee, 2003-05; criminal justice subcommittee, 2005-06; chair, estates & trusts subcommittee, 2007-11; chair, juvenile law subcommittee, 2011-; member, family law subcommittee, 2015-). Member, Joint Committee on Administrative, Executive and Legislative Review, 2004-06. Member, Legislative Black Caucus of Maryland, 2003- (parliamentarian, 2004-); Women Legislators of Maryland, 2003-.

Member, Governor's Commission on Minority Business Enterprise Reform, 2003; Task Force on Juvenile Court Jurisdiction, 2013-14.

City Council Assistant, 5th District, Baltimore City, 1988-90. Assistant Public Defender, District 1, Baltimore City, 1995. Hearing Officer, Civil Service Commission, Baltimore City, 1995-96. Assistant City Solicitor, Baltimore City, 1996-98. Member, Minority Business Enterprise Certification Advisory Committee, Department of Transportation, 1998-2000.

Born in Baltimore, Maryland, June 18, 1964. Attended Western High School, Baltimore; Loyola College, B.A. (English), 1988. University of Baltimore School of Law, J.D., 1992. Admitted to Maryland Bar, 1993. Attorney. Staff attorney, Legal Aid Bureau, 1994. Associate, Warren A. Brown, P.A., 1995-96. Sole practitioner, 1998-. Member, Maryland State Bar Association; Monumental City Bar Association (chair, legislative committee); Maryland Association for Justice (formerly Maryland Trial Lawyers Association). Founding member, Black Lawyers Group. Journalist, Afro American Newspapers, 1987-88. Founder and president, Walter P. Carter Foundation, 1998-. Executive Director, Maryland Minority Business Association, 2002. Member, Baltimore City Democratic Central Committee, 2006-10. Delegate, Democratic Party National Convention, 2016. Maryland's Top 100 Women, Daily Record, 2006. Member, St. James Episcopal Church, Baltimore, Maryland.
---
© Copyright May 26, 2016 Maryland State Archives