---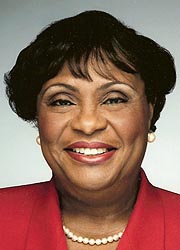 BARBARA A. ROBINSON
Democrat, District 40, Baltimore City
House Office Building, Room 315
6 Bladen St., Annapolis, MD 21401
(410) 841-3520, (301) 858-3520
1-800-492-7122, ext. 3520 (toll free)
e-mail: barbara.robinson@house.state.md.us
fax: (410) 841-3199, (301) 858-3199
---
Member of House of Delegates since January 10, 2007. Member, Appropriations Committee, 2007- (public safety & transportation subcommittee, 2007-; oversight committee on pensions, 2007-); Joint Committee on Fair Practices and State Personnel Oversight, 2011-. Member, Special Joint Commission on Public Safety and Security in State and Local Correctional Facilities, 2013. 1st Vice-Chair, Legislative Black Caucus of Maryland, 2012- (member, 2007-; 2nd vice-chair, 2010-12). Member, Women Legislators of Maryland, 2007- (executive board, at large, 2009-).

Member, Foster Care Review Board, Baltimore City, 1985; Abuser Registry Work Group (DHMH), 2012; Special Review Committee on Coppin State University, 2012-13; Mayor's Council on Minority and Women-Owned Business Enterprises, Baltimore City, 2012-.

Born in Alexandria City, Alabama. University of Baltimore, B.S. (business management), 1975; Coppin State College, M.A. (criminal justice), 1976. Deputy Administrator, District Court of Maryland, 1979-80; Supreme Bench, Baltimore, 1980-82; Circuit Court, Baltimore, 1982-85. Teacher/Educator, Division of Corrections, 1981-88. Adjunct Professor, Community College of Baltimore, 1983-85; Dundalk Community College, 1987-; Anne Arundel Community College, 1987-90. Founder & Executive Director, Self Pride, Inc., 1990-. Talk show host, WEAA Radio, 1990-. Member, Baltimore City Democratic Central Committee, 2010-14. Co-founder, Minority Women Business Owners Association; Employee Assistance Program Professionals; Maryland Coalition of Women for Responsive Government. Author, And Still I Cry (1992); Pursuing Your Passion: Things They Don't Tell You About Entrepreneurship and Being the Boss (1996). Business Woman of the Year, Ujima Society, 1992. Woman of the Year, 100 Black Women, 1992. Women of Enterprise Award, U.S. Small Business Administration, 1995. Maryland Women's Hall of Fame, 1996. Small Business Owner Achievement Award, National Business League, 1996. Welfare-to-Work Entrepreneur of the Year, Small Business Administration, 1999. Visionary Award, African-American Women in Business, 2002. Creating Self Sufficiency Award, Workforce Development Coalition, 2002. Tree of Life Award, Breast Cancer Awareness Association, 2003. Passing the Torch Legacy Award, African-American Real Estate Professionals, Inc., 2003. Achievement Award, National Public Housing Residents' Association, Inc., 2003. Distinguished Service Award, Black Professional Women, Inc., 2004. Woman of the Year, Zonta International, Inc., 2006. Maryland's Top 100 Women, Daily Record, 2009. Member, Bethel African American Methodist Episcopal Church, Baltimore (board of trustees). Married; four children.
---
© Copyright July 17, 2014 Maryland State Archives