---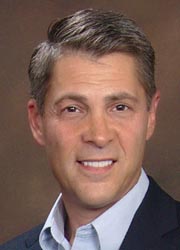 ROGER MANNO
Democrat, District 19, Montgomery County
James Senate Office Building, Room 102
11 Bladen St., Annapolis, MD 21401
(410) 841-3151, (301) 858-3151
1-800-492-7122, ext. 3151 (toll free)
e-mail: roger.manno@senate.state.md.us
fax: (410) 841-3740, (301) 858-3740
---
Member of Senate since January 12, 2011. Chair, Spending Affordability Committee, 2014-. Member, Budget and Taxation Committee, 2011- (health & human services subcommittee, 2011-; pensions subcommittee, 2013-); Joint Committee on Federal Relations, 2011-; Special Joint Committee on Pensions, 2013-. Senate Chair, Joint Committee on Administrative, Executive and Legislative Review, 2015-. Member, Joint Committee on Health Care Delivery and Financing, 2011-14. Senate Vice-Chair, Montgomery County Delegation, 2014-.

Co-Chair, Maryland Youth Advisory Council, 2011-15. Member, Maryland Alzheimer's Disease and Related Disorders Commission, 2012-; State Advisory Council on Quality Care at the End of Life, 2012-; Task Force on the Implementation of Tax Benefits for Emergency Preparedness Equipment, 2013-14. Co-Chair, Maryland Pesticide Reporting and Information Work Group, 2013-15.

Member of House of Delegates, representing District 19, Montgomery County, January 10, 2007 to January 12, 2011. Member, Economic Matters Committee, 2007-11 (business regulation subcommittee, 2007-11; property & casualty insurance subcommittee, 2007-11; consumer protection & commercial law subcommittee, 2007-11). Vice-Chair, County Affairs Committee, Montgomery County Delegation, 2007-11. Member, Maryland BioTech Caucus, 2007-; Maryland Educators Caucus, 2007-; Maryland Veterans Caucus, 2007-.

Member, Task Force to Implement Holocaust, Genocide, Human Rights and Tolerance Education, 2007-08; State Advisory Council on Hereditary and Congenital Disorders, 2009-15.

Legislative Director to U.S. Representative Sanford D. Bishop, Jr., of Georgia, 2002-07. Senior Counsel to U.S. Representative Sheila Jackson Lee of Texas, 2001-02. Staff, U.S. House of Representatives Homeland Security Task Force, 2001-06. Staff/Organizer, Congressional Black Caucus Annual Legislative Conference, 2001-06. Legal extern, U.S. Representative Jerrold Nadler of New York, 2001. Intern, The White House, Clinton Administration.

Member, Criminal Justice Coordinating Commission, Montgomery County, 2005-06.

Member, Blue Ribbon Task Force on Gun Violence (convened by U.S. Representative Albert R. Wynn), 2007-08; White House Task Force of State Legislators for Health Reform, 2009-.

Born April 26, 1966. Hunter College, B.A. (political science), magna cum laude (member, college senate). Franklin Pierce Law Center, M.I.P., J.D. (intellectual property law). Attorney. Admitted to Maryland Bar; District of Columbia Bar; Supreme Court of the United States; U.S. Court of Appeals for Federal Circuit; U.S. Court of Appeals for Armed Forces; U.S. Court of Appeals for 3rd Circuit; District of Columbia Court of Appeals. Former classroom para-educator, New York. Former Associate and Of Counsel, Karp, Frosh, Wigodsky & Norwind, P.A. Board member, Democratic Policy Network, 2002-05. Board of Directors, District 19 Democratic Club, 2002-07. Area Coordinator, Montgomery County Democratic Central Committee, 2003-06. Board of Directors, Committee for Montgomery, 2005-06. Community Service Chair, Congressional Jewish Staff Association, 2005-07. President, B'nai B'rith Capital Region Council, 2005-2008. Board of Directors, B'nai B'rith Chesapeake Bay Region, 2008-. Board of Directors, Reaching Out to Others Together (ROOT), 2007-. Member, National Steering Committee, Leadership Conference on Guaranteed Health Care, 2009-. Original signatory, State Legislators for Single-Payer (HR 676), 2009. Board of Directors, Montgomery Hospice, 2011-13. Robert J. Thompson Eastern Leadership Academy, Eastern Regional Conference, Council of State Governments. Member, Rossmoor Kiwanis Club. Board of Directors, AGWG (Allanwood, Gayfields, Willson Hills, Gaywood Estates) Civic Association. Former director and vice-president, Kemp Mill Civic Association. Legislator of the Year, Washington, DC, Building and Construction Trades Council (AFL-CIO), 2008, 2012. Champion of Working Families, Progressive Maryland Education Fund, 2008. Consumer Rights Hall of Fame, Maryland Consumer Rights Coalition, 2010. Adrian Theophilus Westney Religious Freedom Award, Columbia Union Conference, 2012. Honorary member, International Brotherhood of Electrical Workers (IBEW Local 26, AFL-CIO), 2012. Shofar Award, Melvin J. Berman Hebrew Academy, 2013. Legislator of the Year, Maryland Anesthesiologists Association, 2014. Distinguished Legislative Serivce Award, National Federation of the Blind of Maryland, 2014. Member, Temple Emanuel, Kensington, Maryland. Married.
---
© Copyright February 29, 2016 Maryland State Archives