Cicadas (family Cicadidae)
Most cicada species resemble each other, with black body, transparent wings, and an approx. length of 1.5 inches. They do not bite or sting, although pets may suffer gastric distress if allowed to eat too many during a swarm.

Cicada (Auchenorrhyncha), Baltimore, Maryland, August 2015. Photo by Sarah A. Hanks.

---
Swarms of cicadas (also known as periodical cicadas) appear in Maryland at verying intervals and last about six weeks. During this period, cicada youth, known as nymphs, mature, mate, and then die. Six individual species of cicadas are found in Maryland, falling into a 13- or 17-year hibernation cycle. Upon maturity, they emerge from the ground, and begin to swarm. Prior to emerging, cicadas largely feed on tree sap from the roots of deciduous tree.

Eggs laid during a swarm are classified as Broods and given a number. For example, all species of cicadas born in 1998 belong to Brood XIX, whereas those born in 2004 belong to Brood X. There are twelve recorded 17-year cicada broods and three 13-year broods. Of the broods found in Maryland, Brood X is the largest. Brood XIX is the only 13-year brood in Maryland, and in 2004 was only recorded in St. Mary's County. Each swarm can reach billions of insects in a given area, with numbers climbing even higher when multiple broods emerge in the same year. Specific 13- and 17-year broods only will swarm together once every 221 years. Brood X and XIX are expected to next swarm together in 2089. Though vunerable during a swarm to the usual insect predators, such as frogs and birds, the species greatest threat may be the Eastern Cicada Killer (Sphecius speciosus), a wasp that burrows underground to prey on the dormant creatures between swarms.
Brood X: 1902, 1919, 1936, 1953, 1970, 1987, 2004, and next expected in 2021.
Brood XIX: 1907; 1920; 1933; 1946; 1959; 1972; 1985; 1998; 2011; and next expected in 2024.

Cockroaches (order Blattaria)
Although there are approximately 4,500 individual species of cockroach, only four species generally are encountered in Maryland. The most common of these is the American Cockroach (Periplaneta americana). Despite its name, it is not native to the Americas. Introduced from Africa to the colonies in the 1600s, this species is found throughout the world. Nocturnal, the American cockroach is one of the largest species of cockroach, capable of reaching more than two inches in length. It has also been classified as one of the fastest land insects in the world, reaching a speed of 3.4 mph, or 50 body lengths per second.
Crickets (superfamily Grylloidea)
Member of order Orthoptera, suborder Ensifera, crickets are close biological cousins to grasshoppers, and often mistaken for them. Crickets possess long antennae compared to their body length. Unlike grasshoppers, crickets are primarily nocturnal. Eggs are laid in fall, with females using their abdomen to bury the eggs. Usually buried in loose soil, some species of crickets are known to cut niches into trees or other plants to lay their eggs. Once hatching from their egg in the spring, crickets experience a series of molts. Known for its distinctive call, only the males chirp. This is done by rubbing wings together, not their legs, as is the common belief.
---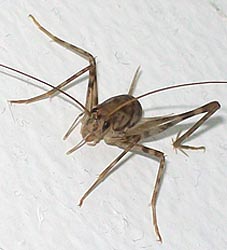 A distinctly unique member of suborder Ensifera,