Albatross, Yellow-nosed (Thalassarche chlororhynchos)
Yellow-nosed Albatrosses have gray heads, white hindnecks, and black eye patches. They have a black saddle and tail, as well as black upperwings. Except for a black edge along the wings, their undersides are white. Their bills are black with a yellow stripe down the middle and a pink tip. They eat fish, crustaceans, and squid, but also will scavenge from fishing boats. Their nests are built on rocks, among ferns or grass, or under trees, and they live in colonies.

Anhinga (Anhinga anhinga)
Anhingas are large water birds. The males have black-green bodies and gray feathers on their necks. Females have tan or gray heads, necks, and upper chests. Anhingas have long necks and tails, pointed bills, and silver-white patches on their wings and backs. They primarily eat fish, but also will eat crustaceans. They build their nests in trees close to water and usually live in colonies of several hundred other birds. Unlike other water birds, Anhingas' feathers aren't completely waterproof. Indeed, before they can fly, they must spread their wings out to dry. While flying, they can soar on thermal currents without flapping their wings. While swimming, they sink deeper in the water. Also known as Darter, Snakebird, and Water Turkey.

Ani, Groove-billed (Crotophaga sulcirostris)
The Groove-billed Anis are tropical black birds with a long tails and large, grooved beaks. They eat insects and seeds and nest in pastures and orchards. Living in small colonies, they lay their eggs in a communal nest.

Avocet, American (Recurvirostra americana)
American Avocets have black and white back feathers, white bellies, and gray or cinnamon heads. With long, thin, upturned bills and gray legs, they forage in shallow water for insects or small crustaceans. Along the shoreline of marshes and beaches, they nest in colonies, sometimes laying their eggs in the nests of other birds, and will attack any predator that comes too close. Chicks are self-reliant after they hatch, and they find their own food. Also known as Blue Shanks.
---
Bittern, American (Botaurus lentiginosus)
American Bitterns are herons. They have long thick bills. Their brown-tan and white stout bodies camouflage them among the reeds. They eat insects, crustaceans, fish, reptiles, and small mammals. Living in shallow, freshwater marshes and ponds, they usually build their nests on aquatic vegetation. American Bitterns are solitary birds that hunt at night. When spotted by a potential predator, the American Bittern will become motionless, blending into the surrounding plants. Also known as Stake Driver and Thunder Pumper.

Bittern, Least (Ixobrychus exilis)
Least Bitterns have a black or dark brown back and top of head, brown-orange face and sides, and white throat and chest with brown-orange stripes. They have long necks and yellow bills and eyes. Wading through the water or straddling reed stalks to catch prey, they eat fish, reptiles, crustaceans, and insects. They live in both freshwater and brackish marshes where they build nests on the ground among thick vegetation. If alarmed, the Least Bittern stops perfectly still, raising its bill and turning toward the danger, even swaying like the reeds. The Least Bittern is one of smallest herons in existence.

Blackbird, Brewer's (Euphagus cyanocephalus)
Male Brewer's Blackbirds are black with an iridescent blue-green body and blue-purple head. Their eyes are yellow and legs and feet are black. The female is brown, including the eyes, with darker shades on the wings and tail. Generally, they eat seeds, grains, and insects, but also will eat amphibians and other birds. In marshes, fields, parks, and lawns, they live in colonies, building nests in trees, reeds, or on the ground. Brewer's Blackbirds will dive at possible predators to scare them off.

Blackbird, Red-winged (Agelaius phoeniceus)
Male Red-winged Blackbirds are black with red-and-yellow patches on their wings, while females are brown with streaks. They eat insects and seeds. Living in marshes, fields, and meadows, Red-winged Blackbirds build their nests near the ground among the vegetation. Males are very territorial and will attack other birds, larger animals, and people that come too close to the nests.

Blackbird, Rusty (Euphagus carolinus)
Male Rusty Blackbirds are black with a purple-green sheen, though they have rust-colored edges on their feathers and pale eyebrows during the winter. The female are brown-gray with pale eyebrows, rust-colored feather edges, and dark feathers around the eyes. Rusty Blackbirds have pale yellow eyes and thin, pointed bills. They primarily eat insects, seeds, acorns, and fruit, but will also eat other birds. They live in swamps, marshes, and flooded forests, where they build nests in shrubs or trees. The Rusty Blackbird has seen a severe population decrease in recent years, over 90%, possibly due to loss of habitat.

Blackbird, Yellow-headed (Xanthocephalus xanthocephalus)
The male Yellow-headed Blackbird is black, with a bright gold head and chest and has white patches on its wings. Females are brown with pale yellow faces and throats. They eat insects in summer and seeds other times, often forming into a "rolling flock" in agricultural fields where the birds in the back continuously fly to the front to find food, an event that can recur for days. They nest in marshes, building their nests in reeds or other vegetation above water. When foraging in winter, they live in grasslands or crop fields.

Bluebird, Eastern (Sialia sialis)
Male Eastern Bluebirds have blue heads and wings, red throats and chests, and gray lower bodies, while females have gray heads and backs with gray-blue wings, brown chests, and white lower bodies. They eat insects, fruits, and occasionally, reptiles and amphibians. They live near woods and in fields, backyards, and parks, and build their nests in tree cavities or nest boxes.

The Eastern Bluebird is the Official Bird of Caroline County (County Code, sec. 30-3), and Prince George's County (County Council Resolution, March 17, 1976).

Bluebird, Mountain (Sialia currucoides)
Male Mountain Bluebirds are bright blue with darker shades on the wings and tail and lighter bellies. Females are gray-brown with areas of lighter blue on their wings and tails, but their chests can have a brown-orange hue at times. Mountain Bluebirds have black eyes and beaks. They primarily eat insects, but also seeds and fruits. Mountain Bluebirds usually fly from their perch to get food, but they can also hover above the ground, diving onto their prey. They build their nests in mountain hillsides, meadows, grasslands, and pastures, using either tree cavities or nesting boxes.

Brant (Branta bernicla)
Brants are small geese that have black heads, necks, and chests and gray-brown wings. They have a white "collar" and, depending on the coast, can have either gray bellies (Atlantic) or black bellies (Pacific). Brants eat grasses, seaweed, and grains. They live in low coastal tundras. From the Arctic Circle, Brants migrate and spend their winter months along Maryland's coastal waters and those of other mid-Atlantic states.
---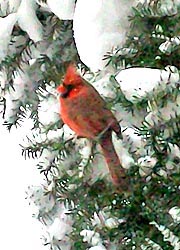 Cardinal, Northern (Cardinalis cardinalis)
Cardinals are known for both their color and their variety of songs. Male cardinals are bright red with crested heads and black around their eyes and beaks. Females are brown with red wings and crests. Cardinals sing all year and unlike other songbird species, the females sing as well. Cardinals eat berries, insects, and seeds, especially sunflower seeds. They nest in thickets or evergreens, often near water. Cardinals can have up to four broods of chicks in a season.

Northern Cardinal (Cardinalis cardinalis), Baltimore, Maryland, January 2016. Photo by Sarah A. Hanks.

---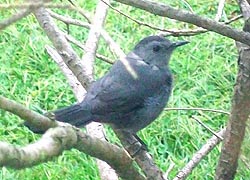 Catbird, Gray (Dumetella carolinensis)
Catbirds are dark gray with black-capped heads and black tails. They eat insects and fruit, including blackberries and cherries. Catbirds nest in dense shrubs close to the ground and often are found in swampy areas. Extremely protective of their nests, Catbirds attack predators or other birds that come too close, and destroy any Cowbird eggs found among their own. During the winter months, they migrate south.

Gray Catbird (Dumetella carolinensis), Baltimore, Maryland, September 2016. Photo by Sarah A. Hanks.

---
Chickadee, Carolina (Poecile carolinensis)
Chickadees are small birds that have gray bodies, white bellies, and black heads and throats. Their diet is mostly insects, but they will also eat fruit and seeds, especially sunflower seeds. They build their nests inside tree cavities or nest boxes.

Cowbird, Brown-headed (Molothrus ater)
Male Brown-headed Cowbirds have brown heads and black bodies, while females are brown with streaks on their bellies. They eat seeds and insects and live in fields, orchards, pastures, and in backyards. Brown-headed Cowbirds lay their eggs in the nests of other birds.

Crow, American (Corvus brachyrhynchos)
Crows are completely black and have glossy feathers. They eat a variety of food, including seeds, fruit, insects, and small animals. Crows make more than twenty different sounds. They live in most types of habitats, except desert areas. Intelligent birds, Crows are known to use tools, especially when it comes to food. Living and nesting in large flocks, Crows are social birds, but also aggressive, chasing away larger predatory birds or intruders.
---