Maryland State Horse - Thoroughbred Horse
---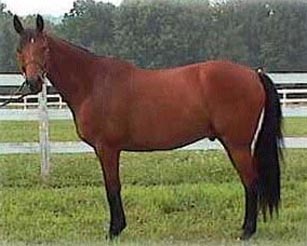 On October 1, 2003, the Thoroughbred Horse became the State Horse of Maryland (Chapter 359, Acts of 2003; Code General Provisions Article, sec. 7-307).

The average Thoroughbred stands 16 hands (64") high at the withers, and weighs 1,000 pounds. Its coat colors may be bay, dark bay, chestnut, black, gray, or occasionally roan.

---
Able to sustain speed for extended distances, the Thoroughbred can run up to 40 miles per hour. Thoroughbreds are used as racehorses and polo mounts, for show jumping and dressage, and by mounted police units and recreational riders.

The Maryland Horse Breeders Association (MHBA) and the Maryland Standardbred Breeders Association are two organization that promote the horse breeding industry in the State.

Thoroughbred horses, Maryland, 2003. Photos courtesy of Governor's Press Office.

---
---
© Copyright September 29, 2015 Maryland State Archives