SPORTS
---
At the August 2016 Summer Olympics in Rio de Janeiro, Maryland athletes shone, winning an unprecendented number of gold medals. They won in basketball, swimming, track, and wrestling.

The Maryland area is home to several professional sports teams, including the Baltimore Orioles (baseball) and the Baltimore Ravens (football). The state has large sporting facilities, and more than a dozen nationally competitive college-level sports teams.

Horses, Pasadena, Maryland, May 2011. Photo by Diane F. Evartt.

---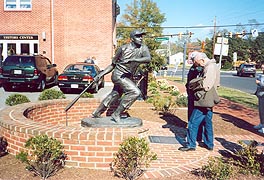 William (Swish) Nicholson statue, North Cross St., Chestertown, Maryland, October 2006. Photo by Diane F. Evartt.
Born in Chestertown, Maryland, William (Swish) Nicholson (1914-1996) became a star batter for the Chicago Cubs and Philadelphia Phillies.

---