Chief Exports: coal, waste paper, automobiles, and small trucks.

Chief Imports: automobiles and light trucks, farm and construction machinery, petroleum products, gypsum, sugar, alumina, salt, crude mineral substances, fertilizer and fertilizer materials, and ferroalloys. Baltimore also continues to grow as a major distributor of imported wood pulp and paper.

Tugboats, Fell's Point, Baltimore, Maryland, January 2000. Photo by Diane F. Evartt.

---
In Maryland's economy, the Port of Baltimore plays a vital role generating $3 billion in annual wages and salary, as well as supporting 14,630 direct jobs and 108,000 jobs connected to Port work. In 2014, the Port also generated more than $300 million in taxes. It serves over 50 ocean carriers making nearly 1,800 annual visits.
The year 2014 surpassed the record from 2013 for most tonnage handled by public terminals in a single year, with 9.7 million tons.
---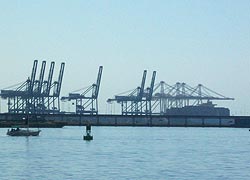 Handling Port traffic are five public and twelve private terminals, as well as four super-post-Panamax cranes. Opened in 1990, the Seagirt Marine Terminal provides a 275-acre center for automated cargo-handling.

Seven post Panamax & four super-post Panamax cranes, Seagirt Marine Terminal, Port of Baltimore, Baltimore, Maryland, May 2015. Photo by Sarah A. Hanks.

---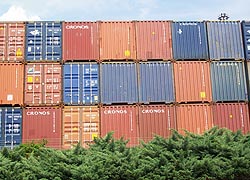 The Port's public terminals had a record year in 2014 for handling automobiles, containers, and farm and construction equipment. Automobile cargo increased by 2%, from 578,192 to 591,068. Including private piers, the Port handled 793,000 autos in 2014, the most of any U.S. port for the fourth straight year. Containers increased 4%, from 6.4 million tons to 6.6 million tons. Wood pulp fell 24%, from 591,570 tons to 449,006 tons. The Port of Baltimore is the top port in the U.S. when it comes to farm and construction equipment (roll on/roll off), with 861,876 tons.

In 2013, the Port of Baltimore was ranked second in the country for exporting coal, which is the Port's top export commodity based on tonnage.

Shipping containers, Port of Baltimore, Baltimore, Maryland, July 2015. Photo by Sarah A. Hanks.

---
In 2014, the Journal of Commerce ranked the Port of Baltimore as number one in the U.S. for container berth productivity, with the Port averaging 84 container movements each hour per berth. The world's four largest container shipping companies, CMA-CGM, Evergreen, Maersk, and MSC, now operate at the Port.

Overall, Baltimore is ranked 9th for total dollar value of cargo and 13th for cargo tonnage for all U.S. ports. In 2014, total cargo moving through the Port totalled 29.5 million tons, down from 30.3 million tons in 2013. The value of cargo traveling through the Port in 2014 came to $52.5 billion, down from $52.6 billion in 2013.
---
History. In the 17th century, the Port of Baltimore started as an access point for Maryland's tobacco trade with England, but soon other commodities shipped through its natural harbor. By the end of the 18th century, the Port began trade with China, and supported by development of the railroad in the 19th century, the Port later transformed as a site for trade with Europe and South America.

The Port first drew attention for its ships in 1670 and was designated a port of entry by the General Assembly in 1706. Fells Point, the deepest part of the harbor, was home to numerous shipbuilders, and later would gain renown for its Baltimore clippers, as well as the Continental Navy. Its natural depth made Fells Point a center for trade and shipping, and, in 1773, it was incorporated into Baltimore City.

As Baltimore grew into a city during the Revolutionary War, the Port of Baltimore became a center for the trade with the West Indies that supported the war effort. Marylanders recognized the need to protect the Port. An earthwork fort, known as Fort Whetstone, was erected in 1776 on Whetstone Point, the narrow peninsula between branches of the Patapsco River. Wardens of the Port were authorized in 1783 to oversee construction of wharves, clear waterways, and collect duties from vessels entering and clearing the Port (Chapter 24, Acts of 1783).

Trade with China commenced in 1785 as John O'Donnell brought in goods to that part of the City called Canton, just east of Fells Point, and, during the nineteenth century, Baltimore clipper ships sped around the world and developed a particularly lucrative trade with South America.

To protect the Port, Fort McHenry replaced the Whetstone earthworks in 1794. Near the old fort, masonry stood in place of earthen walls, and more cannons were added, creating an upper and lower battery. The need for this more defensive structure was proven at the Battle of North Point during the War of 1812.

Although Baltimore was a port long before it was a city, the State delayed its role in port development until 1827. Then, the Governor began annually to appoint State wharfingers who took charge of State-owned or leased docks, particularly those adjacent to the State Tobacco Warehouse.

With the Baltimore and Ohio Railroad connecting to Port warehouses at Locust Point in 1845, Baltimore became the commercial gateway to an expanding nation. As supply and demand grew for imported goods to Baltimore, ship production and design increased.

Over time, the Port changed dramatically, most noticeably in its depth and width. In 1830 the U.S. Army Corps of Engineers surveyed Baltimore Harbor, establishing the central lane depth at 17 feet. Though dredging had been conducted earlier, the River and Harbor Act of 1852 first authorized dredging to obtain specific dimensions. The Act created a channel, some 22 feet deep and 150 feet wide, from Fort McHenry to Swan Point. To decrease sediment accumulations and reduce the need for dredging, in 1869 Brewerton Channel was created. Also 22 feet in depth, this new channel was 200 feet in width. Over the years, new channels have been added, deepened, and widened. A 50-foot turning basin was dredged in the Fort McHenry Channel in 1999. Today, the main channel reaches 50 feet down and 800 feet across. Brewerton Channel was widened further in 2001. Currently, it is 50 feet deep and 700 feet wide. In 2012, the Seagirt Marine Terminal berth also was deepened to 50 feet. By mid-2015, the access channel to the Seagirt Terminal was widened to accomodate the world's largest container ships.

Though constantly growing since its inception, considerable time elapsed before the Port had a State agency to oversee operations. The Maryland Port Authority assumed that role in 1956 (Chapter 2, Acts of Special Session of 1956). The Authority's prime concern was to keep the Port competitive by improving and modernizing its facilities and by promoting it worldwide. In 1971, the Authority was replaced by the Maryland Port Administration.

The Port of Baltimore continues to improve today. It adds jobs and revenue to Maryland's economic base, and has even begun ecological duties. In recent years, the Maryland Port Administration added a number of green projects to its workload, dredging and cleaning over 22 acres surrounding the Port, creating an environmental education center, and taking part in ecological programs, such as the Green Schools Program, and the Masonville Restoration Project. In 2015, new LED light fixtures, which are expected to save around 80% in energy consumption each month, were installed on the bridge connecting the Dundalk and Seagirt Terminals.

In conjunction with the 300th anniversary of the Port's creation, the Governor named the State's public marine terminals the "Helen Delich Bentley Port of Baltimore" on June 1, 2006.
---