WASHINGTON COUNTY
Bloody Lane, Antietam National Battlefield, Sharpsburg, Washington County, Maryland, October 2012. Photo by Sarah A. Hanks.

---
During the Civil War, Confederate General Robert E. Lee and the Army of Northern Virginia made their first invasion of the North in what was called the Maryland Campaign of 1862. Lee and his force of around 45,000 men engaged in battle with Union Major General George B. McClellan and his 87,000-strong Army of the Potomac on September 17, 1862. After twelve hours of combat, nearly 23,000 men were dead, wounded, or missing, making Antietam the bloodiest one-day battle in American history. Though the battle was technically a draw, Lee retreated from Maryland the next evening and this Union "victory" gave President Abraham Lincoln the opportunity to issue a preliminary version of the Emancipation Proclamation, which declared that slaves held in rebel states would be free effective January 1, 1863.

C & O Canal National Historical Park (headquarters)
1850 Dual Highway, Suite 100, Hagerstown, MD 21740 - 6620
(301) 739-4200
web: www.nps.gov/choh

In Washington County, the C&O Canal National History Park connects to Fort Frederick State Park, and runs just south of Antietam National Battlefield. It offers a number of boat launches and campsites, as well as access to the Appalachian Trail.
WORCESTER COUNTY
---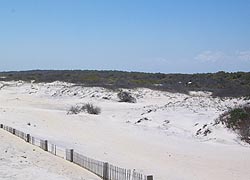 Assateague Island National Seashore
7206 National Seashore Lane, Berlin, MD 21811
(410) 641-1441
web: www.nps.gov/asis/index.htm

Protecting Chincoteague Bay from the Atlantic Ocean, Assateague Island lies just south of Ocean City. The Island's multiple natural vistas include marshes, forests, and sand dune beaches. The Island offers swimming areas, nature trails, and campsites.

Assateague Island National Seashore (Worcester County), May 2015. Photo by Sarah A. Hanks.

---
Ranger Station/Campground Office, 6633 Bayberry Drive, Berlin, MD 21811
(410) 641-1441, ext. 3


Visitors Center, 11800 Marsh View Lane, Berlin, MD 21811
(410) 641-1441, ext. 1
---
© Copyright May 17, 2016 Maryland State Archives