NATIONAL PARKS IN MARYLAND
---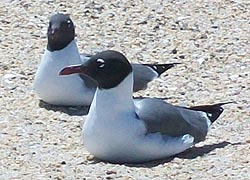 Eight of Maryland's twenty-four local jurisdictions are sites for national parks. To visitors and Marylanders alike, they make accessible historic homes, Civil War battle sites, mountain trails, and a view of the Atlantic Ocean.

Black-headed Gulls, Assateague Island National Park Seashore (Worcester County), May 2015. Photo by Sarah A. Hanks.

---
ALLEGANY COUNTY
C & O Canal National Historical Park
Western Maryland Railway Station Center, 13 Canal St., Room 304, Cumberland, MD 21502
(301) 722-8226
web: www.nps.gov/choh

The C&O Canal National Historic Park stretches across four counties all the way west to Cumberland. The Park offers living history demonstrations, hiking, fishing, camping, horse paths, as well as seasonal activities. In Allegany County, the Park includes the C&O Canal Museum, the Cumberland Visitor Center, and the Western Maryland Scenic Railroad, which runs between Cumberland and Frostburg.
---
BALTIMORE CITY
Fort McHenry National Monument & Historic Shrine
2400 East Fort Ave., Baltimore, MD 21230 - 5393
(410) 962-4290; fax: (410) 962-2500
web: www.nps.gov/fomc/


Fort McHenry, Baltimore, Maryland, May 2000. Photo by Sarah A. Hanks.

---
After burning the White House, the Capitol, and other government building in Washington, DC, the British force on August 24, 1814 advanced towards Baltimore. To the British, Baltimore was a "nest of pirates," due to the number of privateers (ships authorized by the government to attack enemy vessels during war) that launched from its waters. In 1813, the British imposed a blockade on the City, and on September 12, 1814, defeated the Maryland Militia at the Battle of North Point. The next day, Vice-Admiral Sir Alexander Cochrane and the British fleet of 19 ships began a 27-hour bombardment of Fort McHenry and its 1,000 defenders commanded by Major George Armistead. On September 14, the American flag was raised over the Fort. Upon seeing it, Francis Scott Key wrote a poem later known as "The Star-Spangled Banner," our National Anthem.

In celebration of the 200th anniversary of our National Anthem, there was a free festival, the Star-Spangled Spectacular, at Baltimore's Inner Harbor from September 10-16, 2014. Naval vessels and tall ships from around the world were in port and the U.S. Navy's Blue Angels performed in a two-day air show. There were two concerts and a fireworks display over Fort McHenry and the Inner Harbor.
---
BALTIMORE COUNTY
Hampton National Historic Site
535 Hampton Lane, Towson, MD 21286
(410) 823-1309
web: http://www.nps.gov/hamp/index.htm

Hampton National Historic Site, Towson, Maryland, December 1999. Photo by Sarah A. Hanks.

---
Hampton Mansion was built in the Georgian style for the Ridgely family between 1783 and 1790. Upon completion, it was the largest private home in the United States. The estate included extensive gardens, farmlands, a racetrack, an ironworks, gristmills, quarries, orchards, and an orangery. At its peak in the 1820s, it encompassed 25,000 acres. To keep the estate's industries going, the Ridgelys employed many workers throughout the years, including over 500 slaves, hired laborers, British indentured servants, and prisoners of war. In 1815, the second master of the house, Charles Carnan Ridgely, was elected as the 15th governor of Maryland. The Ridgelys entertained prominent guests in their home, including Charles Carroll of Carrollton, one of Maryland's signers of the Declaration of Independence, and the Marquis de Lafayette, the French aristocrat who served as a general in the Continental Army during the Revolutionary War. After the Civil War, the estate went into decline and, in 1948, the Ridgely family left Hampton.
---
FREDERICK COUNTY
Catoctin Mountain Park
6602 Foxville Road, Thurmont, MD 21788 - 1598
(301) 663-9388
web: www.nps.gov/cato/

Created under Franklin D. Roosevelt's "New Deal", Catoctin Mountain Park has campsites, and trails for scenic hiking or horse back riding. The Park borders Cunningham Falls State Park, and offers individual and group cabins for rent.

Hikers in Catoctin Mountain National Park near Thurmont, Maryland, April 2004. Photo by Elizabeth W. Newell.

---
C & O Canal National Historic Park
Brunswick Visitors Center, 40 West Potomac St., Brunswick, MD 21716
(301) 834-7100
web: www.nps.gov/choh/

In Frederick County, the C&O Canal National Historic Park includes the Monocacy Aqueduct, and the Catoctin Creek Aqueduct. The Frederick section of the Canal runs through Brunswick, and connects with the MARC Train for easy access to the Greater Washington, DC, area.

Monocacy National Battlefield
5201 Urbana Pike, Frederick, MD 21704
(301) 662-3515
web: www.nps.gov/mono/index.htm
---
In the the Civil War, during one of the Valley Campaigns of 1864, Confederate Lt. Gen. Jubal Early and his corps of 15,000 men crossed into Maryland and advanced towards Washington, DC. They engaged in battle with Union Major General Lew Wallace and his force of 6,550 men on July 9, 1864. Though Wallace and his men were outnumbered and eventually lost, they delayed Early's march to Washington for a day, thus allowing the Union to send reinforcements to the city. The battle thereafter was known as "The Battle that Saved Washington," and it was the last time that Confederate forces invaded the North.

Worthington Farm, Monocacy National Battlefield, Frederick (Frederick County), Maryland, May 2015. Photo by Sarah A. Hanks.

---
MONTGOMERY COUNTY

C & O Canal National Historical Park
Great Falls Tavern Visitors Center, 11710 MacArthur Blvd., Potomac, MD 20854
(301) 299-3613
web: www.nps.gov/choh

The portion of C&O Canal National Historic Park that is located in Montgomery County offers standard amenities found elsewhere along the canal, as well as two locations to ride canal boats: Great Falls Tavern Visitor Center, and the Georgetown Visitor Center. It runs just south of Glen Echo Park, and the Clara Barton National Historic Site.

Glen Echo Park
7300 MacArthur Blvd., Glen Echo, MD 20812
(301) 492-6229; (301) 492-6282 (programs)
web: www.nps.gov/glec/

Opened in 1891, Glen Echo Park offers art galleries, a theatre, arcade, and stables. The Park also provides classes, and educational lectures. Still open to the public are the Dentzel Carousel (started in 1921), and the Spanish Ballroom (opened in 1933). On the grounds is the Clara Barton National Historic Site. The National Park Service began management of the Park in 1970, and provides tours of the grounds.
PRINCE GEORGE'S COUNTY
Fort Washington National Park
13551 Fort Washington Road, Fort Washington, MD 20744
(301) 763-4600
web: www.nps.gov/fowa/

One of the few remaining seacoast forts in its original design, Fort Washington was first built in 1809. It served as an active military installation until 1946, when it was transferred to the Department of the Interior. Today, Fort Washington Park offers fishing, picnic grounds, historic lectures, and reenactments.

Greenbelt National Park
6565 Greenbelt Road, Greenbelt, MD 20770 - 3207
(301) 344-3948
e-mail: kevin_barry@nps.gov
web: www.nps.gov/gree/

Greenbelt National Park has picnic areas, nature paths for horses and hiking, and campgrounds. The Park is right off of the DC Metro Green Line for easy access to the Nation's Capital.
---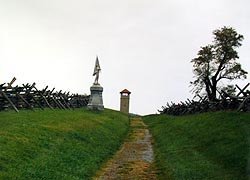 WASHINGTON COUNTY
Bloody Lane, Antietam National Battlefield, Sharpsburg, Washington County, Maryland, October 2012. Photo by Sarah A. Hanks.

---
During the Civil War, Confederate General Robert E. Lee and the Army of Northern Virginia made their first invasion of the North in what was called the Maryland Campaign of 1862. Lee and his force of around 45,000 men engaged in battle with Union Major General George B. McClellan and his 87,000-strong Army of the Potomac on September 17, 1862. After twelve hours of combat, nearly 23,000 men were dead, wounded, or missing, making Antietam the bloodiest one-day battle in American history. Though the battle was technically a draw, Lee retreated from Maryland the next evening and this Union "victory" gave President Abraham Lincoln the opportunity to issue a preliminary version of the Emancipation Proclamation, which declared that slaves held in rebel states would be free effective January 1, 1863.

C & O Canal National Historical Park (headquarters)
1850 Dual Highway, Suite 100, Hagerstown, MD 21740 - 6620
(301) 739-4200
web: www.nps.gov/choh

In Washington County, the C&O Canal National History Park connects to Fort Frederick State Park, and runs just south of Antietam National Battlefield. It offers a number of boat launches and campsites, as well as access to the Appalachian Trail.
WORCESTER COUNTY
---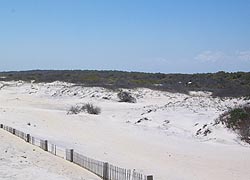 Assateague Island National Park Seashore
Route 611, Berlin, MD 21811
(410) 641-1441
web: www.nps.gov/asis/

Protecting Chincoteague Bay from the Atlantic Ocean, Assateague Island lies just south of Ocean City. The Island's multiple natural vistas include marshes, forests, and sand dune beaches. The Island offers swimming areas, nature trails, and campsites. Assateague Island National Park Seashore (Worcester County), May 2015. Photo by Sarah A. Hanks.

---
Barrier Island Visitors Center, 7206 National Seashore Lane, Berlin, MD 21811
(410) 641-1441

Campground Office, 7205 Stephen Decatur Highway, Berlin, MD 21811
(410) 641-3030
---
© Copyright September 29, 2015 Maryland State Archives