The Victorian Fountain at Government House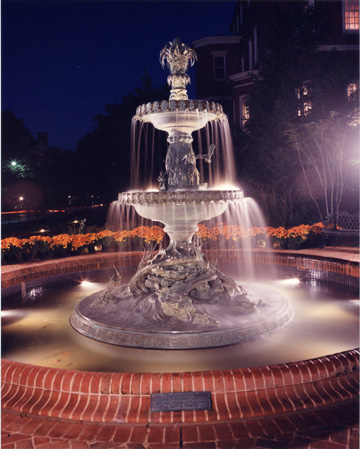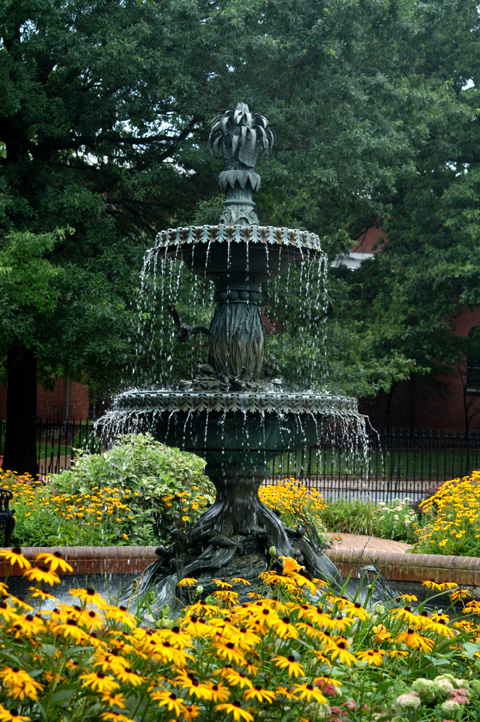 This beautiful Victorian-style fountain was created and installed in the garden at Government House in 1990. The fountain was designed by Graham Landscape Architects in Annapolis and sculptor Lyle Beddes of Historical Arts and Casting helped to create it. The design includes many images that represent Maryland and its bounty, including corn, crabs, tobacco, terrapins and the Baltimore Oriole, the state bird.
The fountain was the inspiration of former governor William Donald Schaefer and his official hostess Hilda Mae Snoops. It cost $169,000 and was paid for with private funds. In 1994, Governor Schaefer officially dedicated the fountain to Mrs. Snoops, who died in 1999.
Government House, which stands across the street from the historic Maryland State House in Annapolis, was built in 1868 as a high Victorian mansion. In 1935, it was expanded and completely renovated into the style of a five-part Georgian house. The fountain stands near a bay window that still remains from the building's Victorian beginnings.
This web site is presented for reference purposes under the doctrine of fair use. When this material is used, in whole or in part, proper citation and credit must be attributed to the Maryland State Archives. PLEASE NOTE: The site may contain material from other sources which may be under copyright. Rights assessment, and full originating source citation, is the responsibility of the user.
---
© Copyright August 23, 2021 Maryland State Archives